I
Introduction
Now more than ever, there is a need for nonprofits to incorporate strategic planning into their operations. Nonprofits serve the public good in various ways. Essentially, they provide aid to individuals who are needy, ill, underserved, or in any way vulnerable. Also, they challenge society to address social issues in novel ways particularly through public policy, by acting as educators, advocates, and active agents of social change. By and large, every movement for social change has been led by nonprofits.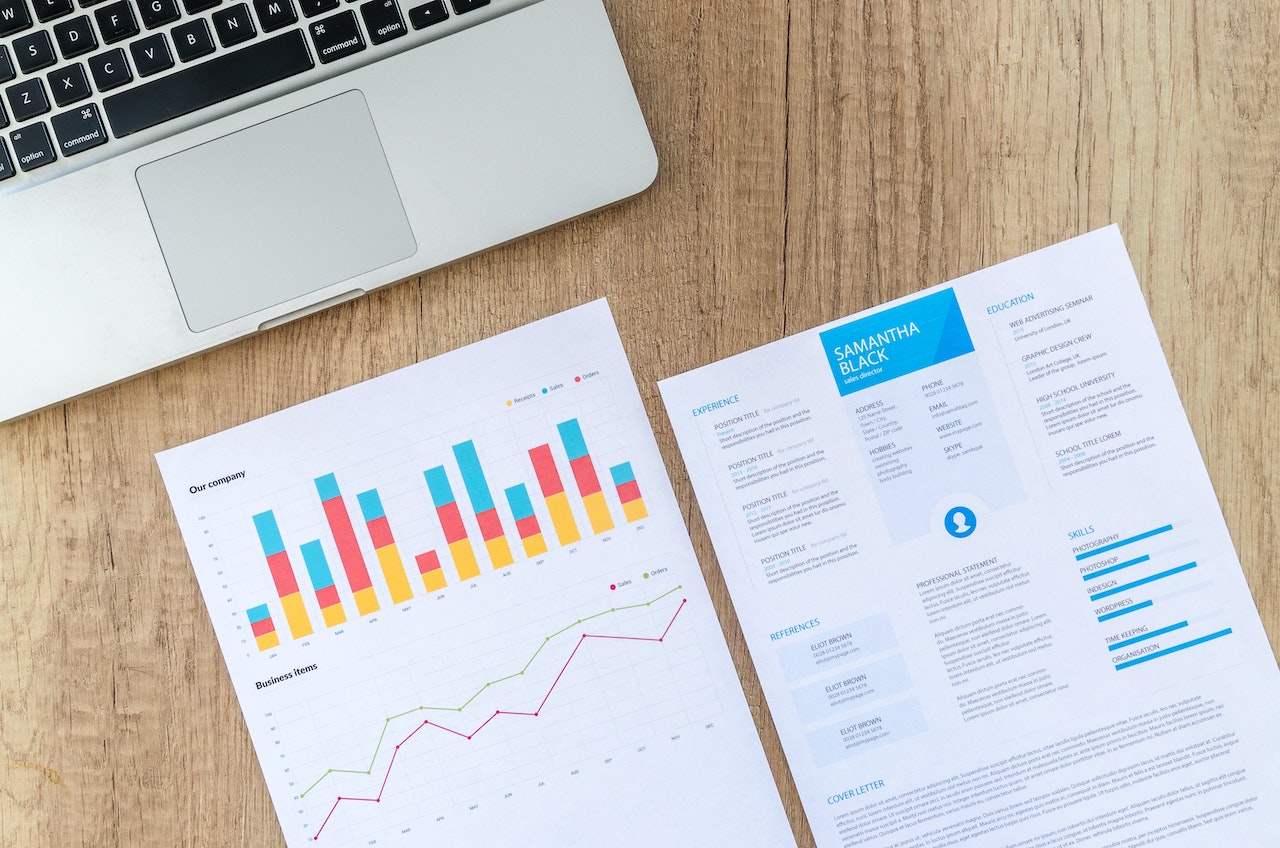 NGOs have become a critical change agent especially due to their wide array of influence. The term "nonprofit sector" is more accurately used to refer to a variety of subsectors. This includes those in the fields of health care, education, social services, legal services, civic, fraternal, and advocacy organizations, among others. The huge variety of subsectors within the nonprofit reflects their ability to make a diverse impact. Likewise, these organizations have various sources of funding, varying degrees of independence from the government, varying degrees of participation in the market economy, and quite contrasting corporate cultures.
To successfully navigate change in the evolving industry space, nonprofits must resort to strategic planning as an effective tool for creating a distinct impact. In this article, we will consider the importance of strategic planning for nonprofits and how they can effectively incorporate the principle into their day-to-day operations.
II
What Is Strategic Planning?
Strategic planning goes beyond just deciding an organization's future course and how to get there. Primarily, a strategic plan provides detailed measures to reach an organization's goals and also reveals its identity. In addition, a strategic plan helps an organization to navigate unforeseen events and uncover new opportunities while also upholding its core principles and objectives.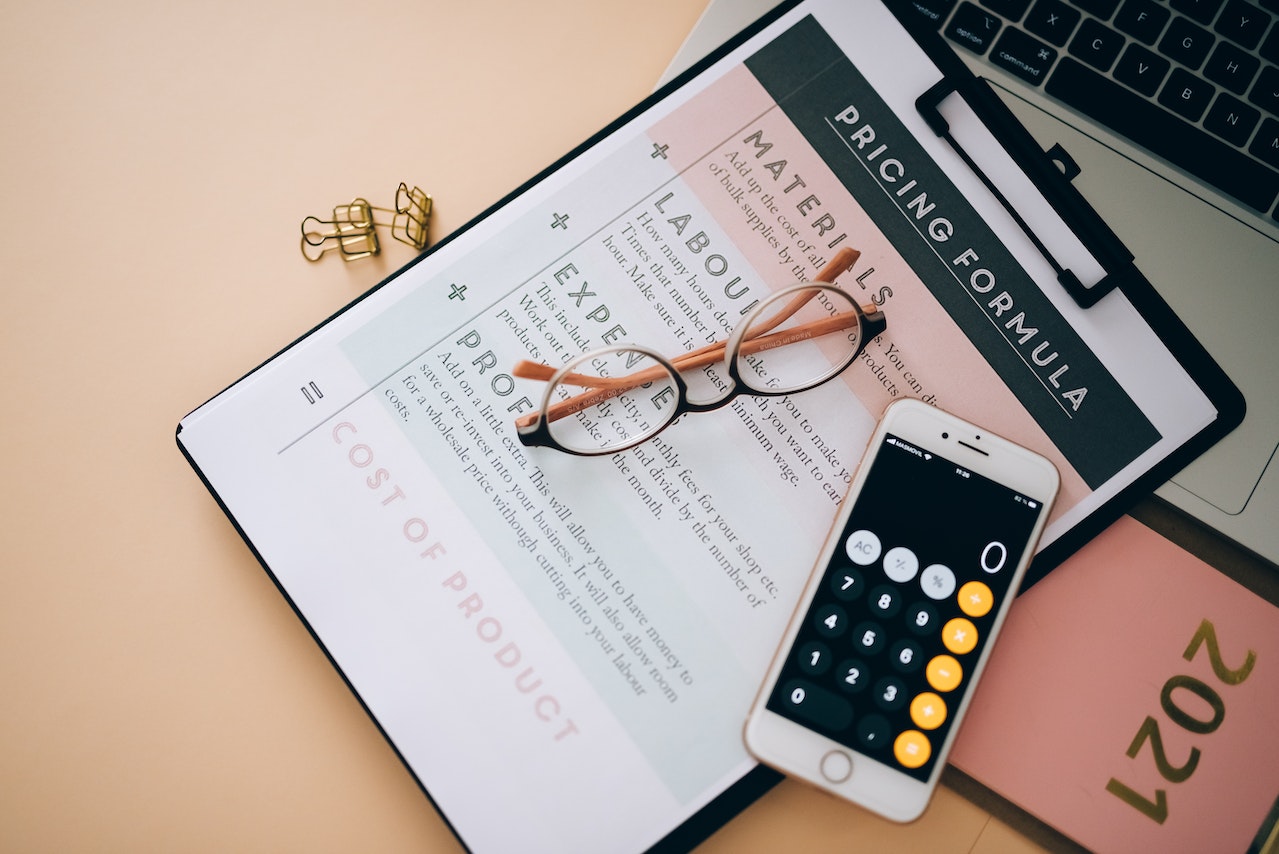 To begin with, developing a strategic plan is a team-building exercise that could bring employees together and enhance communication. Through this process, an organization can allocate resources efficiently, align board members and employees with its aims, and ensure that all goals are supported by data and facts.
All things considered, strategic planning requires time, effort, and constant assessment. It can lead an organization in the right direction if done correctly. One benefit of strategic planning is that it encourages an organization and its board members to come together around a singular vision.
For the most part, the decisions we make reflect bias. However, being a part of a strategic planning process allows an organization to carefully evaluate the various choices and back them up with accurate data, projections, or case studies to overcome cognitive biases.
III
Why Nonprofits Are Adopting Business Ideas
It has always been challenging for the vast majority of nonprofit organizations to locate adequate, trustworthy finance sources. Also, government grants and other common nonprofit income sources are cyclical and cannot regularly provide funding. Besides, organizations compete fiercely for foundation funding and charitable donations. As a result, several nonprofits have resorted to selling goods and services to gain earnings rather than primarily relying on donations from the public or funding from the government.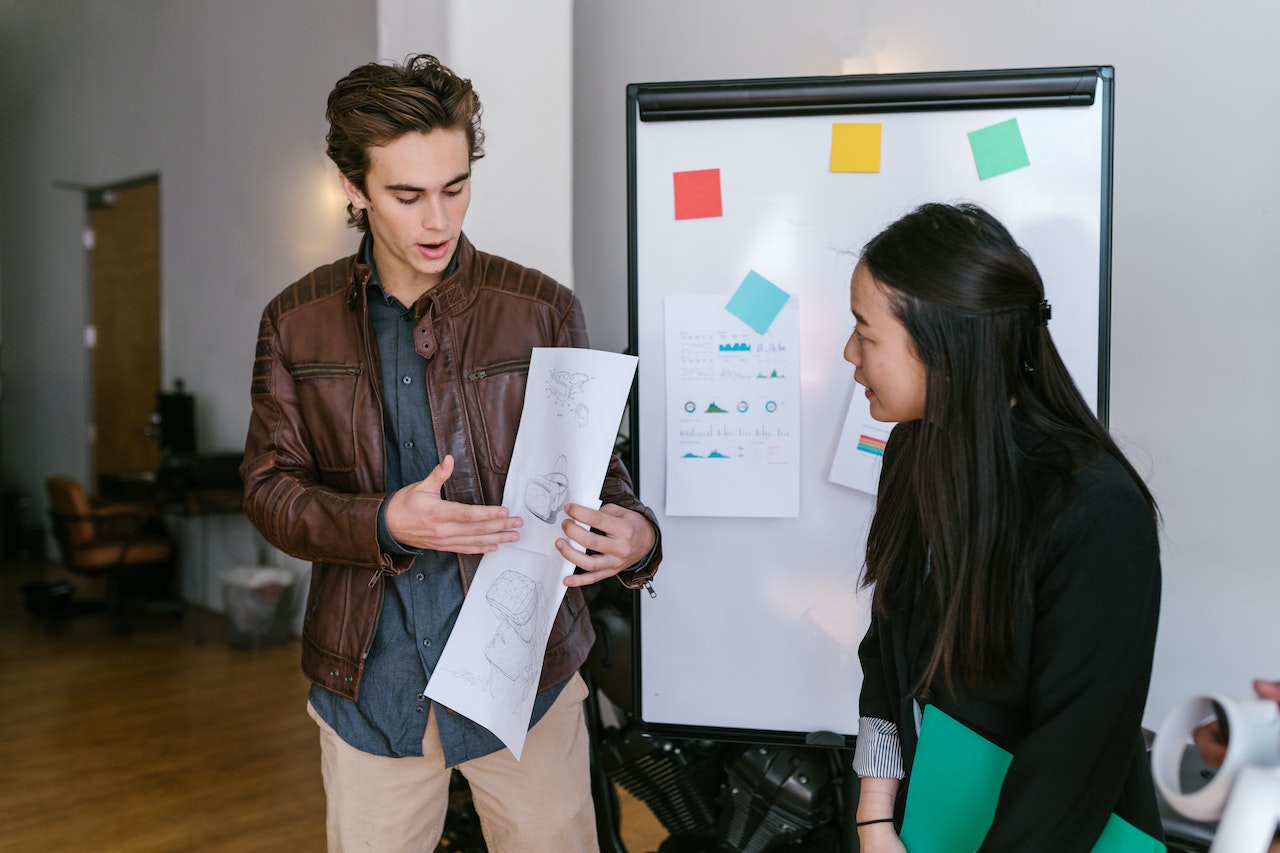 In actuality, many organizations are now paying for their services to support their operations. Also, contrary to popular belief, most organizations do not obtain their funding through donations. Rather, statistics show that 48% of the money received by public charities comes from fees for products, services, and programs.
In the past, institutions majorly relied on fees for a sizable portion of their income. This was especially within the nonprofit sector's two most capital-intensive industries—healthcare and higher education. However, these days, there is more discussion about the size and nature of the commercial activities that nonprofits are engaging in. An increasing number of charity organizations are emulating the commercial sector by exploring strategies including joint ventures, for-profit subsidiaries, mergers, and acquisitions.
These flexible, inventive, and entrepreneurial approaches might hold the key to the success and growth of NGOs. Likewise, new sources of income enable some groups to function independently and carry out their charitable missions more effectively. However, blurring the barriers between the charity and for-profit sectors comes with risks.
Rising Concerns
As NGOs adopt the structures and financial models of their for-profit rivals, policymakers and the general public are rather concerned that this will divert them from pursuing charitable goals and attaining civic objectives. Serving the dual goals of mission and market can be difficult, if not impossible, as examples of charity conversions to for-profit status demonstrate.
Also, the necessity for NGOs as a distinct sector is important in society since they frequently meet demands that cannot be supplied by market mechanisms. The gradual transition of the sector has largely occurred without warning, thought, or national debate about the consequences and public policy implications. Currently, the biggest challenge for nonprofit organizations is to frame a set of civic-based service goals and strategies for the 21st century.
Hence, for an organization to be successful and maintain its integrity, it must comprehend the various options and tradeoffs. Also, organizations must choose revenue strategies that are aligned with their objective and properly address the management issues each plan presents. In essence, a nonprofit must manage its reliance on resources rather than the other way around. Likewise, nonprofits must continuously adapt their strategy to their resource situation.
IV
Critical Statistics to Aid Nonprofits in Strategic Planning
The nonprofit sector has observed a rise in the demand for nonprofit services across the globe. Also, more than five to ten percent of the American annual revenue comes from the sector. Ten percent of US jobs come from nonprofits as well. According to a report, nonprofits' economy would rank fifth in the world if they were a nation.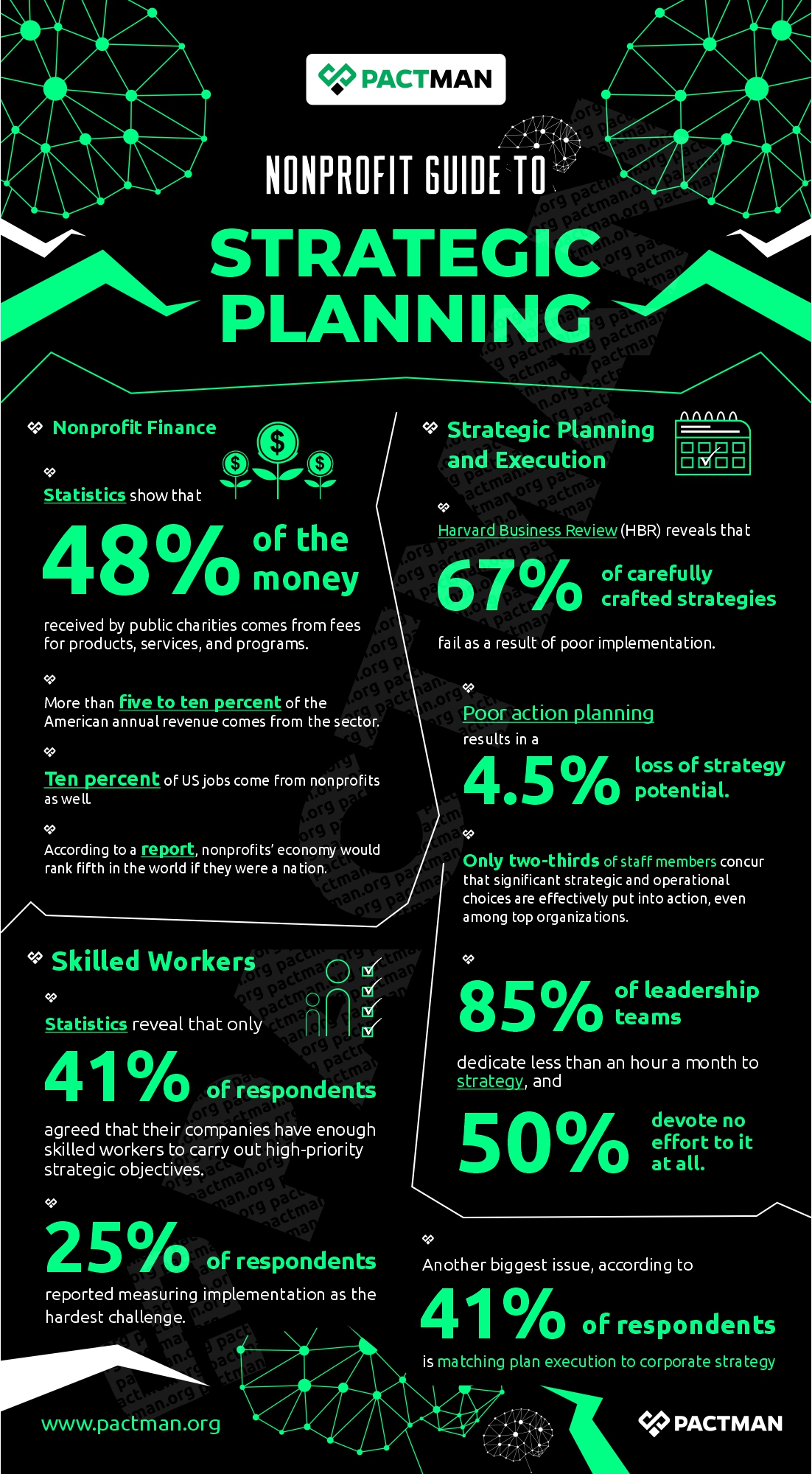 In this section, we will consider how statistics reveal the importance of strategic planning even for NGOs. Likewise, nonprofits can recognize the major areas of operation that require strategic planning.
a. Planning and Execution
Harvard Business Review (HBR) reveals that 67% of carefully crafted strategies fail as a result of poor implementation. Also, poor action planning results in a 4.5% loss of strategy potential. Presently, a well-known and ongoing problem that affects both businesses and organizations is execution. Only two-thirds of staff members concur that significant strategic and operational choices are effectively put into action, even among top organizations.
b. Skilled Workers
Statistics reveal that only 41% of respondents agreed that their companies have enough skilled workers to carry out high-priority strategic objectives. Also, 25% of respondents reported measuring implementation as the hardest challenge. Another big issue, according to 41% of respondents, is matching plan execution to corporate strategy.
c. Resource Planning
A 2022 Workday survey found that 51% of charitable organizations worry that their enterprise resource planning solutions aren't flexible enough to fulfill their organization needs now and in the future.
d. Strategic Planning
85% of leadership teams dedicate less than an hour a month to strategy. However, to quickly respond to changes in the marketplace and competitive environment, Nonprofits must be adaptable. Superior performance, which is ultimately the main objective of any organization, depends on both operational effectiveness and strategy.
In addition, to achieve great long term viability, operational effectiveness must be constantly improved. Not to mention, strategy enables differentiation. Without a strategy, a plan degenerates into a meaningless marketing slogan. Also, the core of strategic planning is making decisions on what not to do. Trade-offs are necessary because, without them, there would be no need for decision-making or strategy. As a result, any good idea would be swiftly copied.
Last but not least, the absence of strategic planning impedes decision-making and obstructs information flow. Likewise, lack of career advancement, incorrect decisions, and the reinforcement of structural silos are all consequences of no strategic planning. Employees can only be held responsible for their decisions after they are informed of the roles they have to play in a strategic plan. Thereafter, they can concentrate their efforts on the organization's goals.
V
Effective Tools to Adopt For Strategic Planning
To successfully navigate change, employees must be given effective tools to perform their jobs. This also entails being familiar with technology tools. The capacity to scale up efficiently when it comes to humanitarian help has literally helped to save lives all around the world. In this section, we will consider some effective strategic planning initiatives to consider as a nonprofit.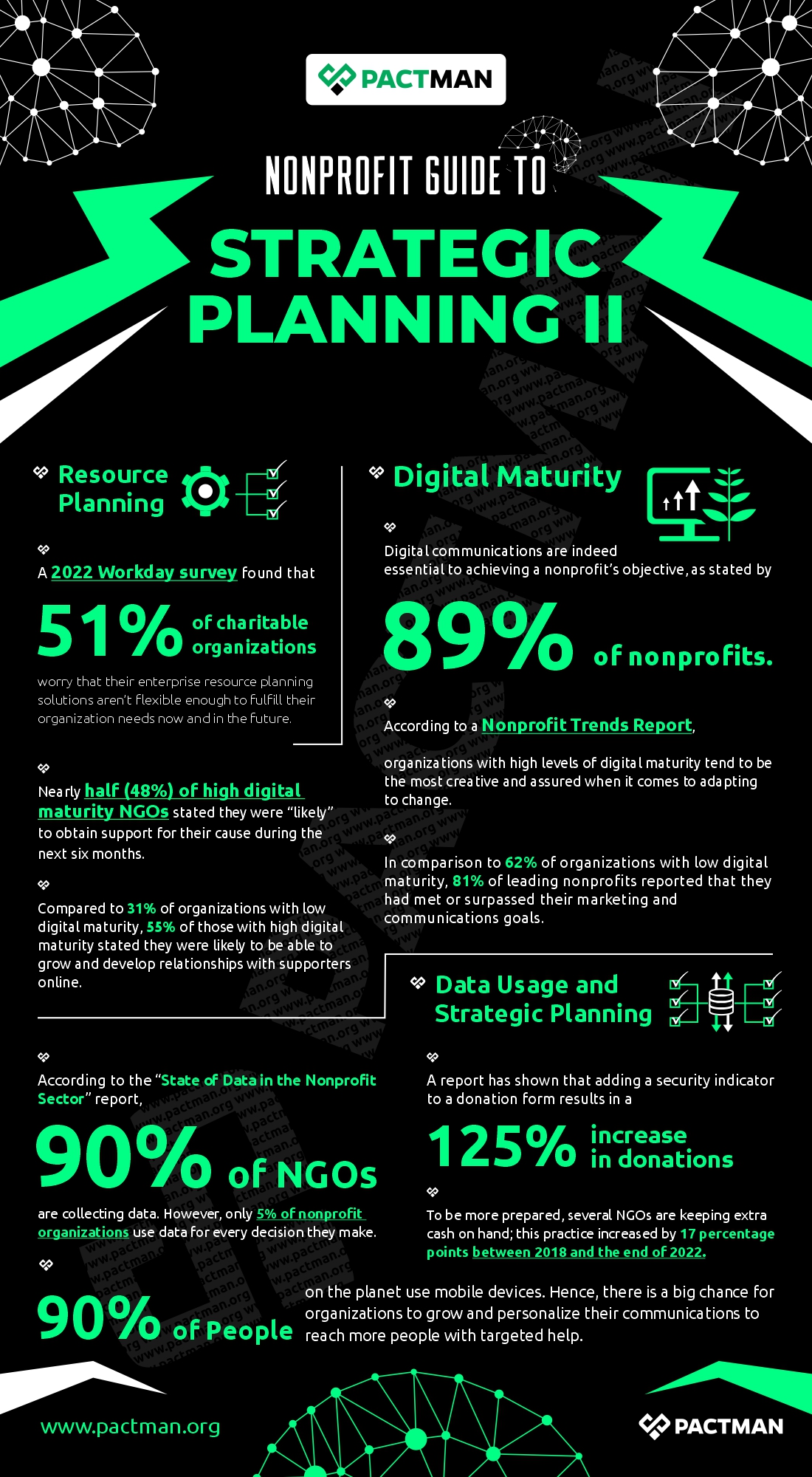 1. Digital Maturity
Digital communications are indeed essential to achieving a nonprofit's objective, as stated by 89% of nonprofits. According to a Nonprofit Trends Report, organizations with high levels of digital maturity tend to be the most creative and assured when it comes to adapting to change.
We can define digital maturity as the capacity of an organization to use data to estimate fundraising revenue, reach new audiences, tailor communications, and inform decision-making. Also, being at ease with technology is the first step in developing digital maturity.
Nonprofits can obtain more grants when they choose to leverage digital technology. Nearly half (48%) of high digital maturity NGOs stated they were "likely" to obtain support for their cause during the next six months. Also, compared to 31% of organizations with low digital maturity, 55% of those with high digital maturity stated they were likely to be able to grow and develop relationships with supporters online. Finally, in comparison to 62% of organizations with low digital maturity, 81% of leading nonprofits reported that they had met or surpassed their marketing and communications goals.
By and large, several well-known NGOs have reported that technology enhances their productivity. Without a doubt, greater digital maturity among nonprofits makes them feel more prepared for change. Although nonprofit organizations generally adopt technology slowly, reports are showing a steady increase in technology growth across the sector. The first step in utilizing technology to help your organization reach its objectives is to acknowledge the need for digital innovation in strategic planning.
2. Data Usage
Now more than ever, nonprofits must leverage data to make decisions, attract new audiences, customize communications, and project fundraising income. When an organization knows how to evaluate data, it becomes easy to obtain answers to all the questions regarding donations. According to the "State of Data in the Nonprofit Sector" report, 90% of NGOs are collecting data. However, only 5% of nonprofit organizations use data for every decision they make, although almost all NGOs collect information.
Simple metrics like names, addresses, phone numbers, and emails are only one aspect of data. Essentially, the beauty of it is that by knowing what to look for, an organization can gather detailed information on donors and their behaviors.
ROI is one of the most important factors donors consider when deciding whether to donate to an organization. Hence, when a nonprofit is able to explain to donors where their money is going and how it is having an impact, donors are reminded that they have the power to change the world when they donate. Additionally, it motivates donors to keep supporting the organization's cause and remaining part of the project.
3. Fundraising Strategy
Fundraising remains a crucial subject as more people rely on nonprofit services. Hence, the success of a nonprofit largely depends on its extensive and comprehensive fundraising strategy.  Also, effective fundraising is the secret to increasing an organization's impact. In this section, we will highlight some of the fundraising strategies to consider as a nonprofit.
a. Prioritize Donor Data
Ensure that your organization uses donor data while running any kind of fundraising effort.
b. Embrace corporate alliances
An organization can increase its reach by collaborating with nearby companies or regional offices of larger organizations. With this, nonprofits can gain access to new sources of income and form connections with influential members of their community.
c. Provide several payment options
Even though most contributors will prefer to use their credit cards, tech-savvy donors would rather use mobile wallet choices like Google Pay and Apple Pay. With a mobile wallet, donors can give anywhere, at any time, making it the most convenient option. Also, some people might want to donate using their PayPal accounts. Hence, be sure to provide customers with a variety of options, some of which don't necessitate typing in their credit card details. By lowering the entry barrier, an organization can improve the conversion rate of its donation form.
d. Add trust indicators
Every time an organization solicits a donation online from people, it is also requesting their trust. As a result, reassure contributors that their cash and information are secure by adding trust indicators to donation forms, such as a padlock icon. A report has shown that adding a security indicator to a donation form results in a 126% increase in donations.
e. Effectively highlight your "Donate Now" button
It is best to make your online platform simple for visitors to donate. You can begin by putting a prominent "Donate Now" button on each page of your website. This will ensure that regardless of which page a visitor is on, they can easily access your give button. Also, it is preferable to place your 'Donate Now' button at the right-hand corner of your primary navigation—the top menu that displays on every page of your website.
In addition, make sure your text is clear, simple, and actionable, and use a prominent color to make your button stand out from the rest of your content.
4. Make future scenario plans
The demand for nonprofit services won't go away any time soon despite the demographic changes and economic uncertainty. In fact, according to a poll of 1,100 U.S. nonprofit leaders, an overwhelming majority (85%) of U.S. nonprofits have predicted a 10% yearly rise in the demand for their services in 2023.
Nonprofit organizations can weather unforeseen interruptions and make plans by setting aside money for emergencies and future costs. Likewise, nonprofits must make plans for all possible future scenarios and be able to quickly adjust their plans when circumstances change.
In particular, accurate financial forecasting will enable charitable organizations to meet demand and change course in the event of future disruptive occurrences. Nonprofits can also model and assess different funding and expenditure strategies across several fiscal years. To be more prepared, several NGOs are keeping extra cash on hand; this practice increased by 17 percentage points between 2018 and the end of 2022.
In strategic planning, it pays to have a financial plan as the uncertain economy can affect everything from individual donations to government funding. However, a plan will allow an organization to concentrate not only on its programs but also on its operations.
To sum up, profitability, efficiency, and productivity can only be achieved when organizations have access to current digital tools, effective data, and fundraising strategies. Nonprofits that are more technologically advanced are better able to comprehend their surroundings and make future plans.
Conclusion
NGOs play a key role in making the public and private sectors responsible and responsive. Also, the ability to scale up humanitarian aid so effectively is literally saving lives all across the world. Other charitable sectors are following suit and using digital tools to achieve their goals, such as education, healthcare, and human rights.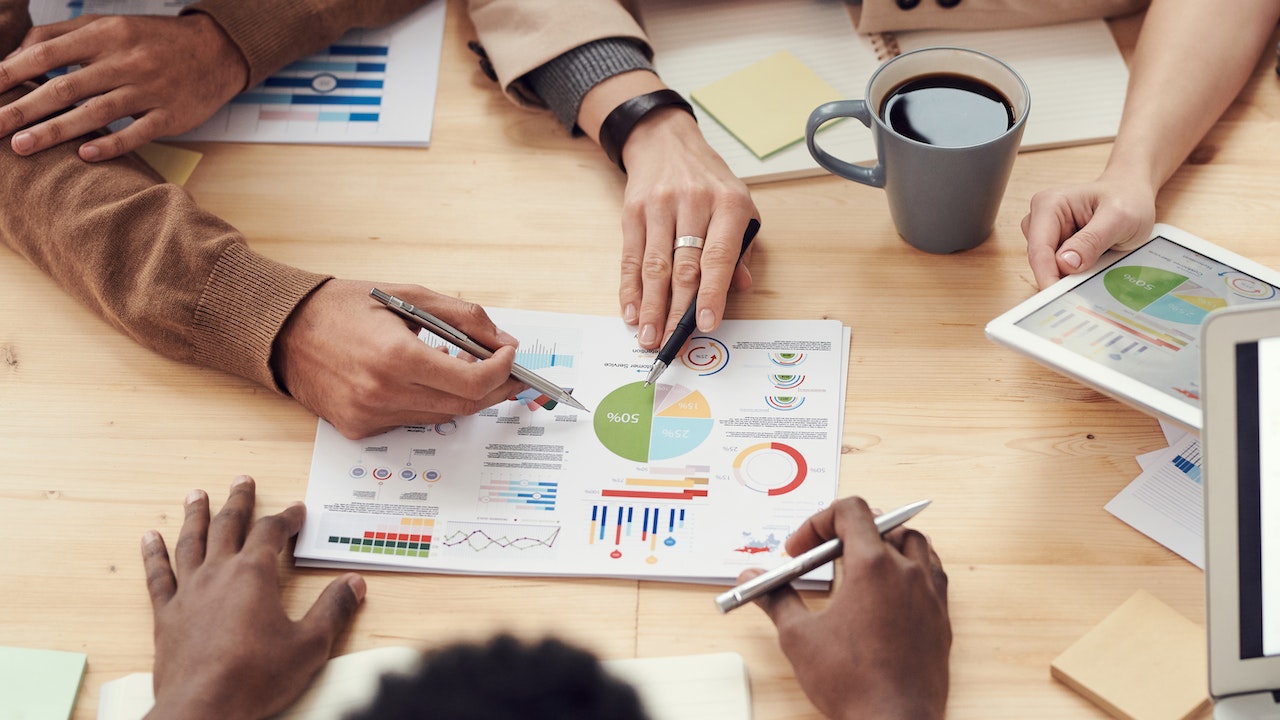 Strategic planning allows nonprofits to be more efficient in carrying out their operations. 90% of people on the planet use mobile devices. Hence, there is a big chance for organizations to grow and personalize their communications to reach more people with targeted help. As more nonprofits use digital communications, a greater number of people will be able to receive the assistance they need.
The bottom line is that strategic planning bridges the gap between what Nonprofit leaderships want to achieve and how it will actually be achieved. It makes no sense not to have a plan as a Nonprofit today, especially with the amount of tools available for Nonprofit strategy planning.
If you enjoyed reading this article, please leave your comments below!