The nonprofit industry has witnessed a change in recent years in charitable giving trends.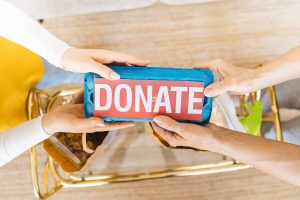 Online giving is one of the easiest ways people donate to charity.
Crowdfunding is also changing how people make donations.
Top Charitable Giving Trends
While there are several emerging trends in charitable giving, here are a few of the trends worth following and/or implementing:
1. Online Giving
More people are giving online than ever before, and this trend is likely to continue. Online giving is convenient, and donors can give from anywhere, at any time. Nonprofits are responding to this trend by optimizing their websites for donations and making it easier for donors to give online.
2. Crowdfunding
The use of crowdfunding by Nonprofits to raise money is growing in popularity. Platforms for crowdfunding such as GoFundMe and Kickstarter allow nonprofits to set up fundraising campaigns quickly and easily, and donors can contribute any amount they want.
3. Donor-Advised Funds
The use of donor-advised funds has become more widespread in recent years. These funds allow donors to make charitable contributions to a fund and then recommend grants from the fund to the nonprofits of their choice.
4. Impact Investing
Impact investing is an approach to investing that seeks to generate a social or environmental impact alongside financial returns. This trend has led to the rise of social impact funds that invest in nonprofits and social enterprises.
5. Corporate Giving
Many corporations are increasing their charitable giving and partnering with nonprofits to achieve their social responsibility goals. Corporate giving has become more strategic, with many companies focusing on specific causes and issues.
6. Peer-to-Peer Fundraising
Peer-to-peer fundraising has become a popular way for nonprofits to engage supporters and raise funds. It relies on supporters to raise funds on behalf of the nonprofit by reaching out to their personal networks.
Conclusion
Not all the trends mentioned above (in this article) might be the best for your Nonprofit. I would suggest trying each one, and sticking with the one (or more) trend(s) that best fit your Nonprofit and her donors.
We would love to know if this article was helpful to you. Please share your comments and suggestions with us at the bottom of the post.