Clothing constitutes an essential human need. However, not everyone has access to clean and suitable clothing. In Canada, there are numerous cloth donation charities working tirelessly to bridge this gap and provide clothing to those in need. The effort of these organizations has played a crucial role in supporting vulnerable populations, reducing waste, and promoting sustainability.
In this article, we will explore some prominent cloth donation charities in Canada and highlight their valuable contributions to society.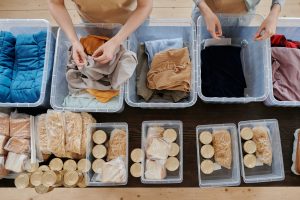 Goodwill Industries generates revenue for charitable works from sales of used clothing.

Big Brothers Big Sisters

distribute

donated clothing items to children and youth in need.
Charities that Accept Clothing Donations in Canada
Cloth donation charities in Canada play a vital role in supporting vulnerable individuals and families by providing them with access to clothing. Their initiatives help create a positive social impact and contribute to a more inclusive society. Here are a few of these organizations that accept cloth donations.
1. The Salvation Army
The Salvation Army is a globally recognized charitable organization with a strong presence in Canada. The charity operates thrift stores and donation centers across the country, accepting clothing donations from individuals and redistributing them to people in need. The donated items are either given directly to individuals or sold at affordable prices to generate funds for various community programs. The Salvation Army's commitment to helping the underprivileged makes it a significant player in the cloth donation landscape.
2. Goodwill Industries
Goodwill Industries is another prominent organization that focuses on empowering individuals and communities through its thrift stores and community programs. The nonprofit accepts gently used clothing donations, which are sorted, priced, and made available for sale in their stores. The revenue generated from these sales goes towards job training, employment placement, and other vital social services. By supporting Goodwill, donors not only contribute to clothing accessibility but also aid in creating opportunities for disadvantaged individuals.
3. Dress for Success
Dress for Success is a unique cloth donation charity that specifically supports women in need. This organization collects professional attire, including clothing, shoes, and accessories, to help women prepare for job interviews and enter the workforce with confidence. By providing appropriate attire and offering career development programs, Dress for Success empowers women to achieve economic independence and break the cycle of poverty. This specialized focus on women's empowerment makes the organization an important contributor to the cloth donation landscape in Canada.
4. Diabetes Canada
While primarily known for its diabetes-related programs, Diabetes Canada also runs a clothing donation program that significantly benefits both the environment and communities in need. Through its "Clothesline" initiative, the organization collects gently used clothing, bedding, and other textiles, diverting them from landfills. The proceeds generated from selling these items are used to fund diabetes research, education, and advocacy. By donating clothes to Diabetes Canada, individuals can contribute to both environmental sustainability and important medical causes.
5. Big Brothers Big Sisters
Big Brothers Big Sisters is a well-established organization focused on mentoring children and youth. While the charity primarily facilitates mentorship programs, they also accept clothing donations to help the families they support. The donated clothing items are distributed to children and youth in need, ensuring they have appropriate attire for various activities, including school, sports, and special occasions. By donating clothes to Big Brothers Big Sisters, you can positively impact the lives of young people and contribute to their overall well-being.
Conclusion
In Canada, clothing donation charities are essential for meeting the clothing needs of vulnerable groups. It also helps in cutting waste and promoting sustainability. By supporting these organizations, you can make a meaningful difference in the lives of those in need. Consider donating your gently used clothing to these charities and join the effort to create a positive impact in Canada.
Please let us know if you enjoyed reading this post. Please leave us a comment at the bottom of this post.