I 
Introduction 
Cloth donation charities play a critical role in decreasing waste buildup across the globe. These organizations, through various initiatives, are focused on repurposing wears rather than simply discarding them. Overall, this has contributed immensely to global environmental sustainability, particularly for individuals in underdeveloped countries.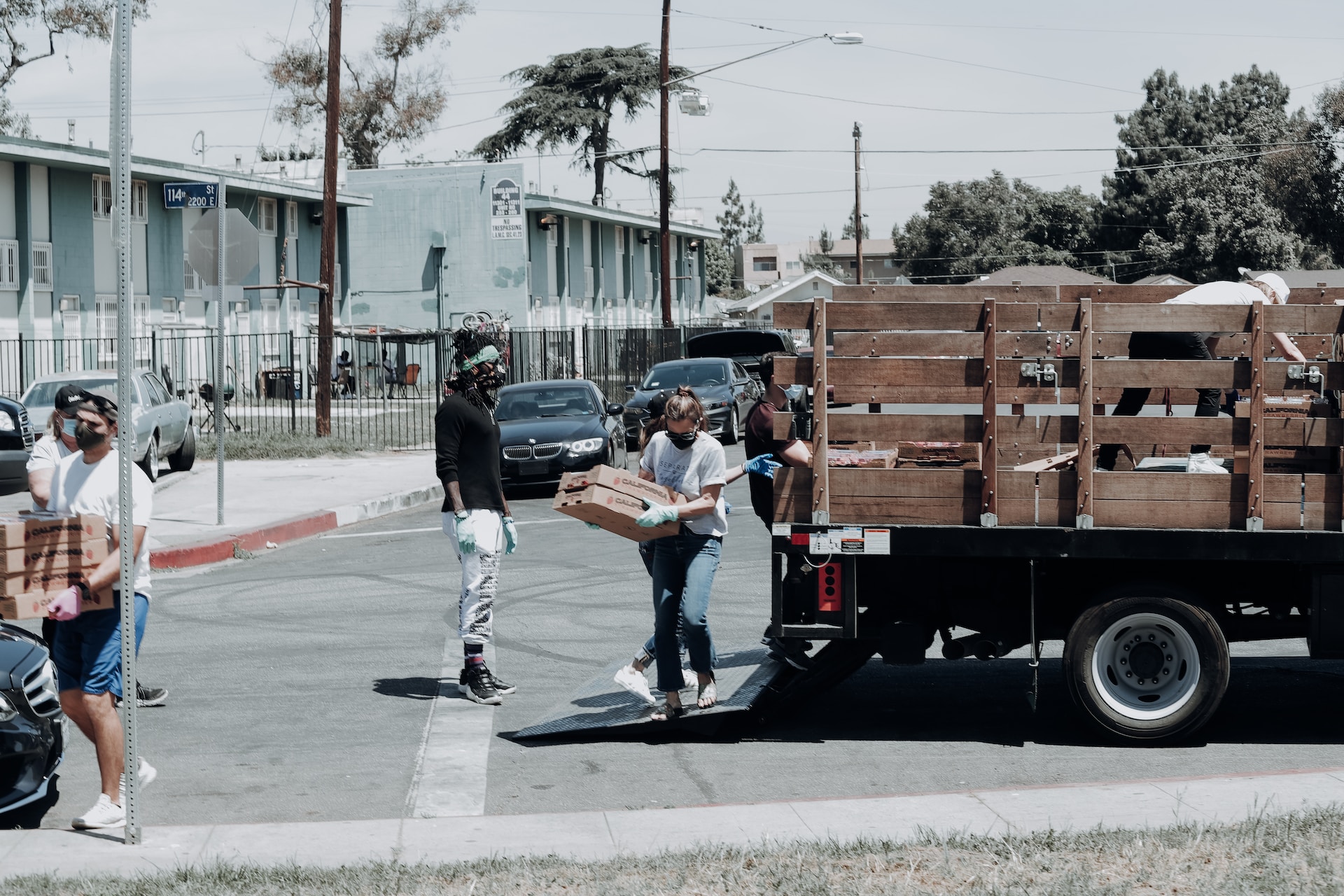 The frequent changes in fashion trends continue to result in more cloth waste. Consequently, this has tremendously impacted the environment and society. Cloth donation has long been a popular, simple, and mostly worthy option for discarding clothes no longer in use. Likewise, through donations, clothes can last longer. Not to mention, nonprofit organizations make efforts to keep most of the items they receive out of landfills. The proceeds from the sales of donated clothing items are oftentimes used to fund critical community-based programs and services.
This article seeks to review the impact of cloth donation charities globally and how their actions have contributed to improving sustainability.  
II 
Important Statistics Worth Considering 
With the ever-increasing sophistication and trends, people appear to have more possessions than ever before. The average American household is reported to have over 300,000 items. And the average American has five times the amount of clothing compared to persons of the same socioeconomic status in the 1980s. Unused apparel in wardrobes is estimated to be worth roughly £30 billion. According to the Waste and Resources Action Program, WRAP, around £140 million of clothing is discarded each year.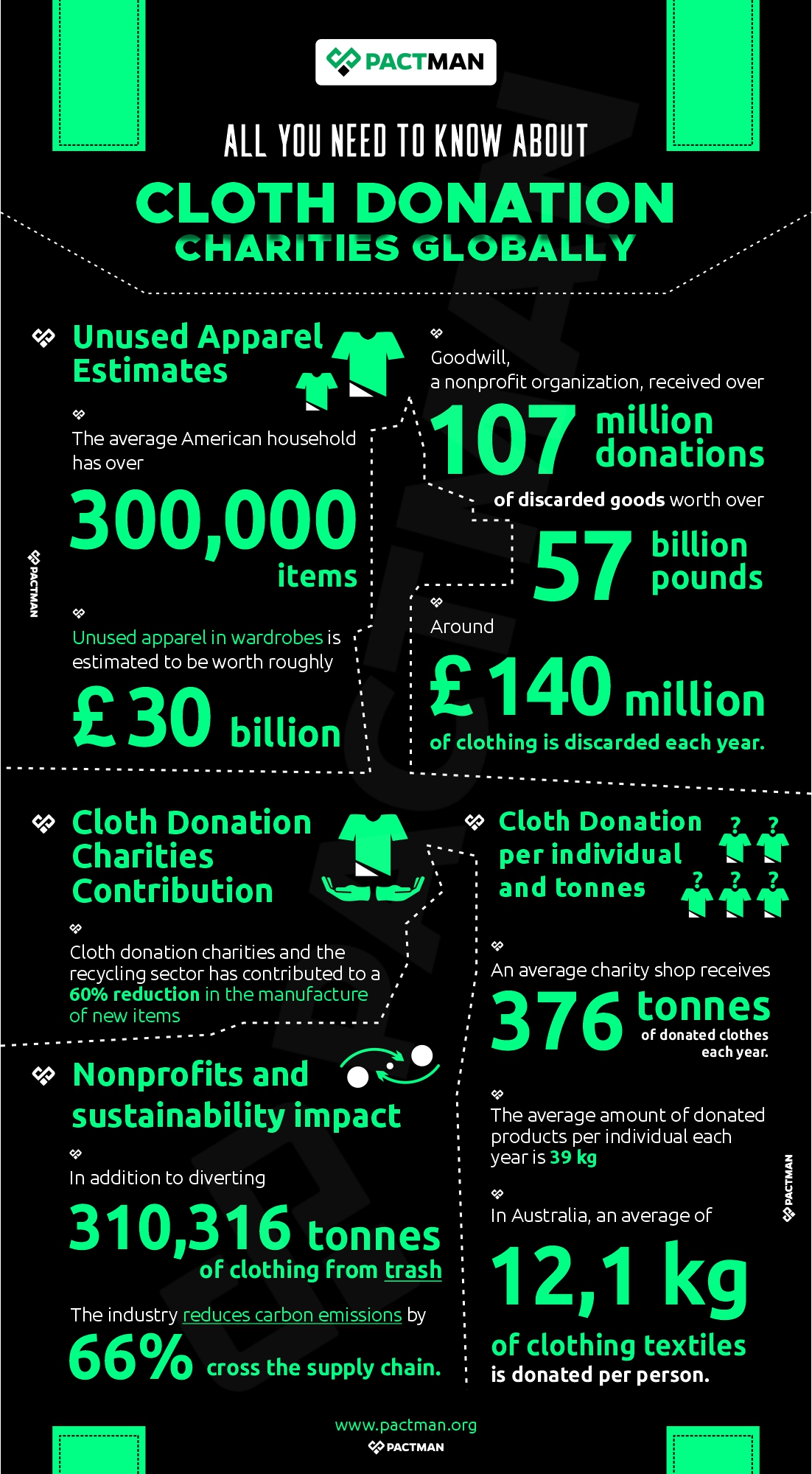 Cloth donation charities play a significant role in promoting the reuse and recycling of these items. Generally, clothing reuse via the Cloth Donation charities and Recycling Sector has a displacement effect, resulting in a 60% reduction in the manufacture of new items. An average charity shop receives 376 tons of donated merchandise each year. The average amount of donated products per individual each year is 39kg. In Australia, an average of 12.1kg of clothing textiles is donated per person. In addition to diverting 310,316 tons of clothing from trash, the industry cut carbon emissions by 66% across the supply chain. 
The United States exports nearly a billion pounds of used clothes each year.  Likewise, Goodwill, a nonprofit organization, received over 107 million donations of discarded goods worth over 5.7 billion pounds. By and large, a considerable portion of the items donated to Goodwill are shipped to Africa. 
This shows how cloth donations have contributed to counterbalancing the effects of excessive consumerism. Every environmentally mindful action goes a long way in improving our environment. Hence, cloth donation charities not only provide clothing aid but are also impacting the globe. 
III
The Negative Cost of Cloth Production and Sustainability Impact of Cloth Donation Charities 
The entire process of cloth production consumes precious resources. Agricultural products, accompanying fertilizer or feed for natural fibers, and petroleum derivatives for synthetic fibers are some of the things that go into cloth making. Likewise, all steps of production consume energy and water in addition to emitting greenhouse gases.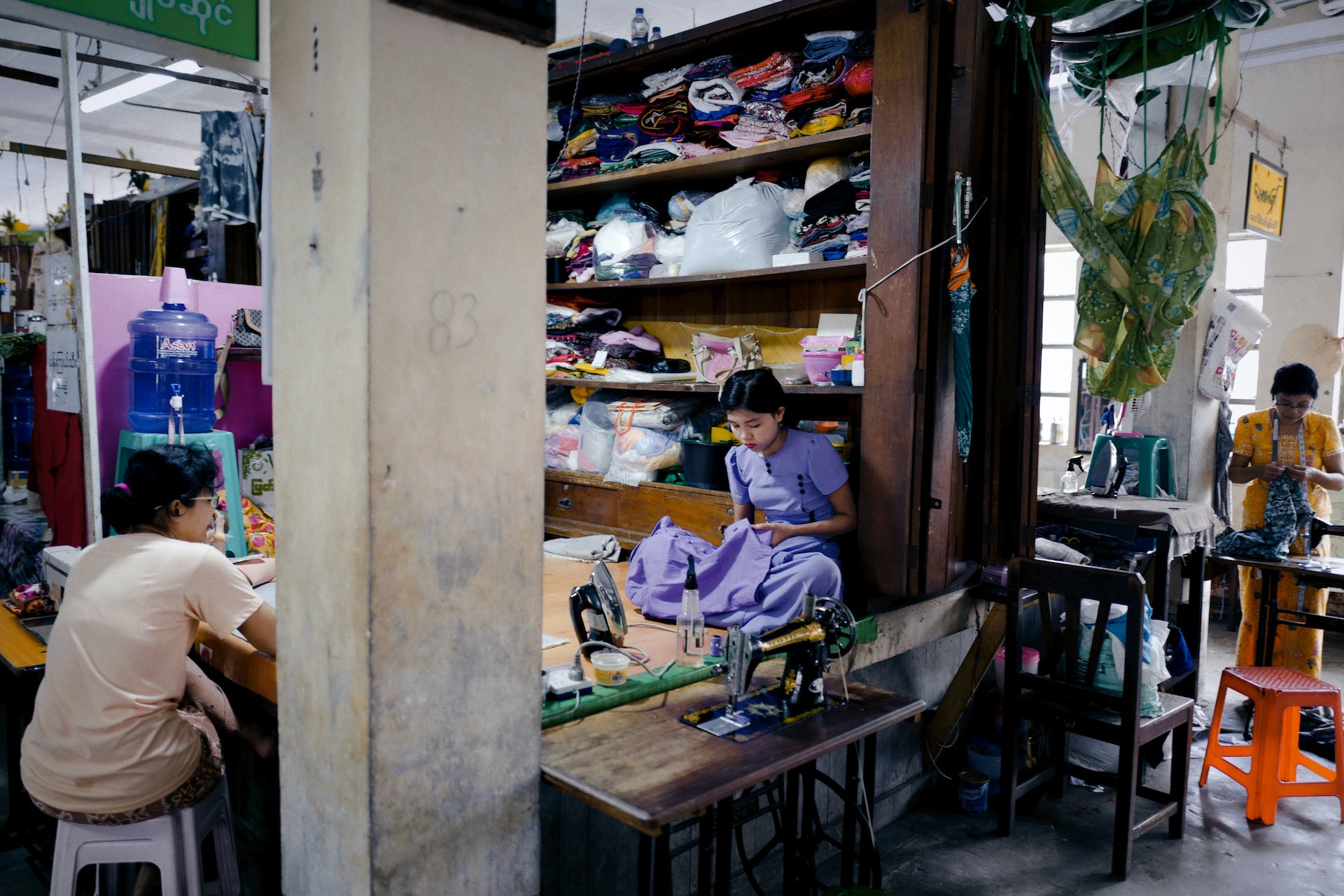 Water use, energy consumption, and greenhouse gas emissions vary significantly depending on the type of fiber or garment. Cotton clothing uses considerably more water than synthetic fiber clothing, such as polyester17. In most cases, the opposite is true for energy consumed and greenhouse gases emitted.
Also, other aspects such as where and how a clothing item is manufactured can impact the environment. Energy supplies, for example, and farming practices differ across countries, regions, and sites. Clothing production in China employs coal-based energy, which has a greater carbon footprint than textile production in Europe. Similarly, organic cotton production produces less greenhouse gas than conventional cotton production. 
On the other hand, reusing and recycling clothes extends its lifespan. This lowers the amount of clothing sent to landfill as well as the resource use and emissions related to clothing production. Also, in addition to extending the clothing's lifespan, it decreases the need for people to buy new apparel. Charities work to ensure that products donated through their organization are not discarded. This is motivated in part by a cost imperative and in part by their mission to be accountable to the community.
IV
Impact of Cloth Donation Charities
The Charitable Reuse and Recycling Sector provides numerous benefits in addition to reducing landfill waste. In this section, we will look at the various impacts of cloth donation nonprofits across the globe.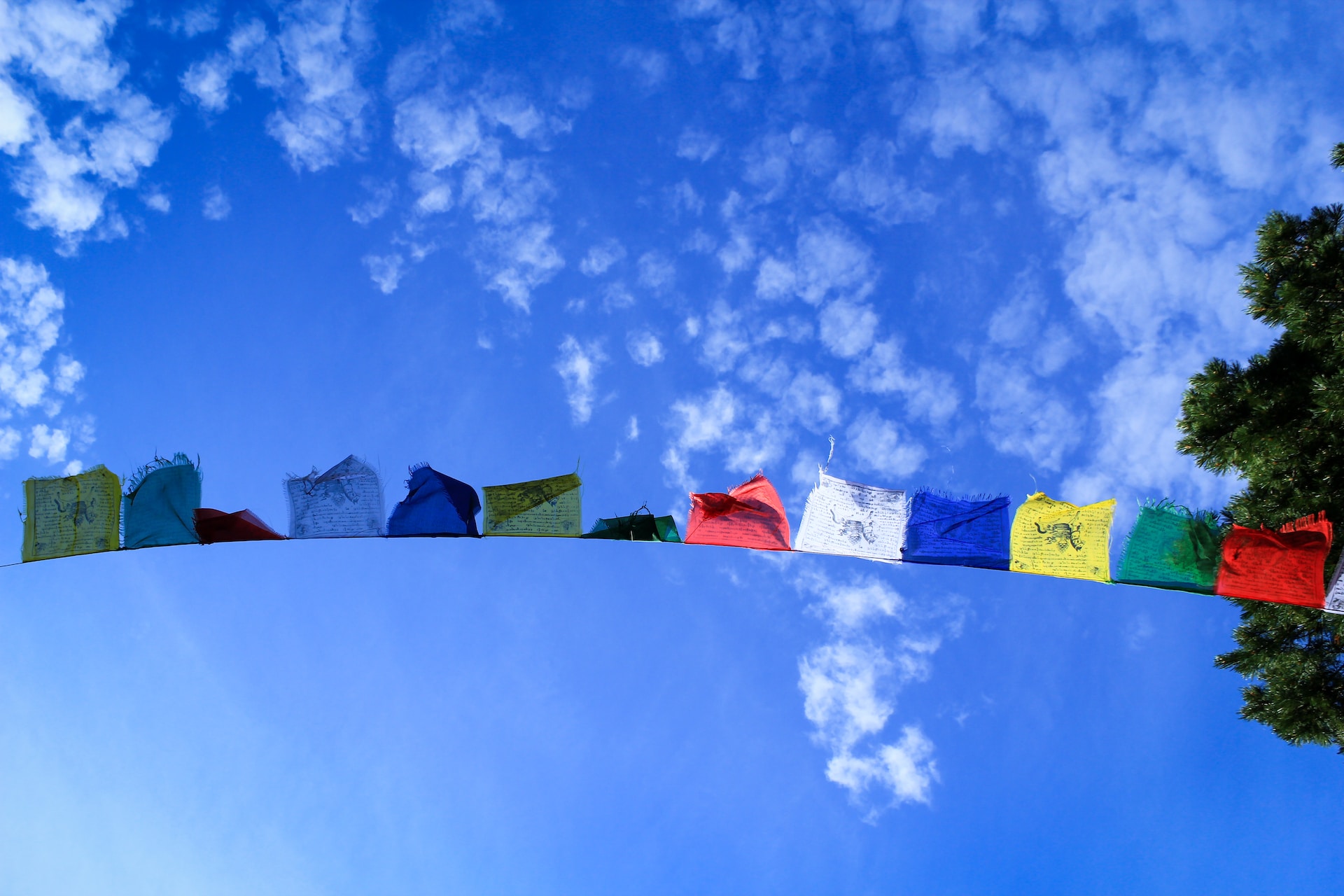 1. Defense Against Climate Change

 
We are all aware of the effect of climate change and how it stands as a global threat. The Environmental Protection Agency estimates that it costs $45 per ton to dispose of rubbish in a landfill. Also, when clothing and other items rot in landfills, they emit toxic greenhouse gases like carbon dioxide and methane into the environment. These poisonous fumes can harm the environment and the surrounding communities. 
However, the longer something is in use, the fewer items are generated and discarded. Hence, this circular usage adopted by cloth donation charities allows the usage of goods to their maximum capacity. The outcome is a more sustainable environment and a reduction in negative impacts.
2. Providing Employment Opportunities
Along with the important role charitable recycling stores play in reselling and recycling goods, they also contribute to the community by providing employment and volunteer opportunities. This has assisted individuals who have difficulty finding work in other sectors. Likewise, retirees are given the opportunity to participate in meaningful community engagement. In addition to their job training, these employees learn more about the sustainability principles of reducing, reusing, and recycling. It is safe to say that the charitable reuse and recycling sector plays a vital role in developing sustainability ambassadors who in turn spread awareness across communities. 
3. Water Conservation

 
The fashion industry consumes a lot of water in the creation of garments. Consider cotton, a popular textile fiber that is also quite water-intensive. According to estimates, a cotton t-shirt requires about 2,700 gallons of water when manufacturing. Also, the manufacturing of new textiles accounts for 10% of total carbon emissions, all of which can be prevented by donating used clothing and home items for reuse. 
Donating clothes minimizes the demand for garment production. Similarly, garment donation conserves water by shielding it from chemical contaminants in the air. When unwanted garments and textiles sit in massive landfills, they begin to emit toxic gasses. When rain falls on those landfills, the water rinses out the chemicals, which accumulate at the landfill's base and eventually find their way into groundwater. On the other hand, donating clothes solves dual purposes. First, they provide benefits to those in need of new clothes. Secondly, they help to keep the environment safe by keeping apparel in circulation for a longer period of time.
4. Conserving Orphanage Resources 
According to reports by UNICEF, about 147 million children are orphans worldwide. In India, for example, 4% of the country's youth population is orphaned, and this proportion is expected to rise. Because most orphanages and charity organizations rely solely on donations from donor bodies, agencies, and individuals, they frequently lack sufficient resources to clothe every child in their care. The more reason why cloth donation charities have a huge impact as they assist to relieve strain on the orphanage's resources. These organizations continue to provide warmth for numerous children. 
5. A Circular Economy And a Better Future
Donating used clothing supports the circular economy, in which goods are made, utilized for as long as feasible, and then recycled. Charity stores sell 16.5% of the clothing processed by the Charitable Reuse and Recycling Sector.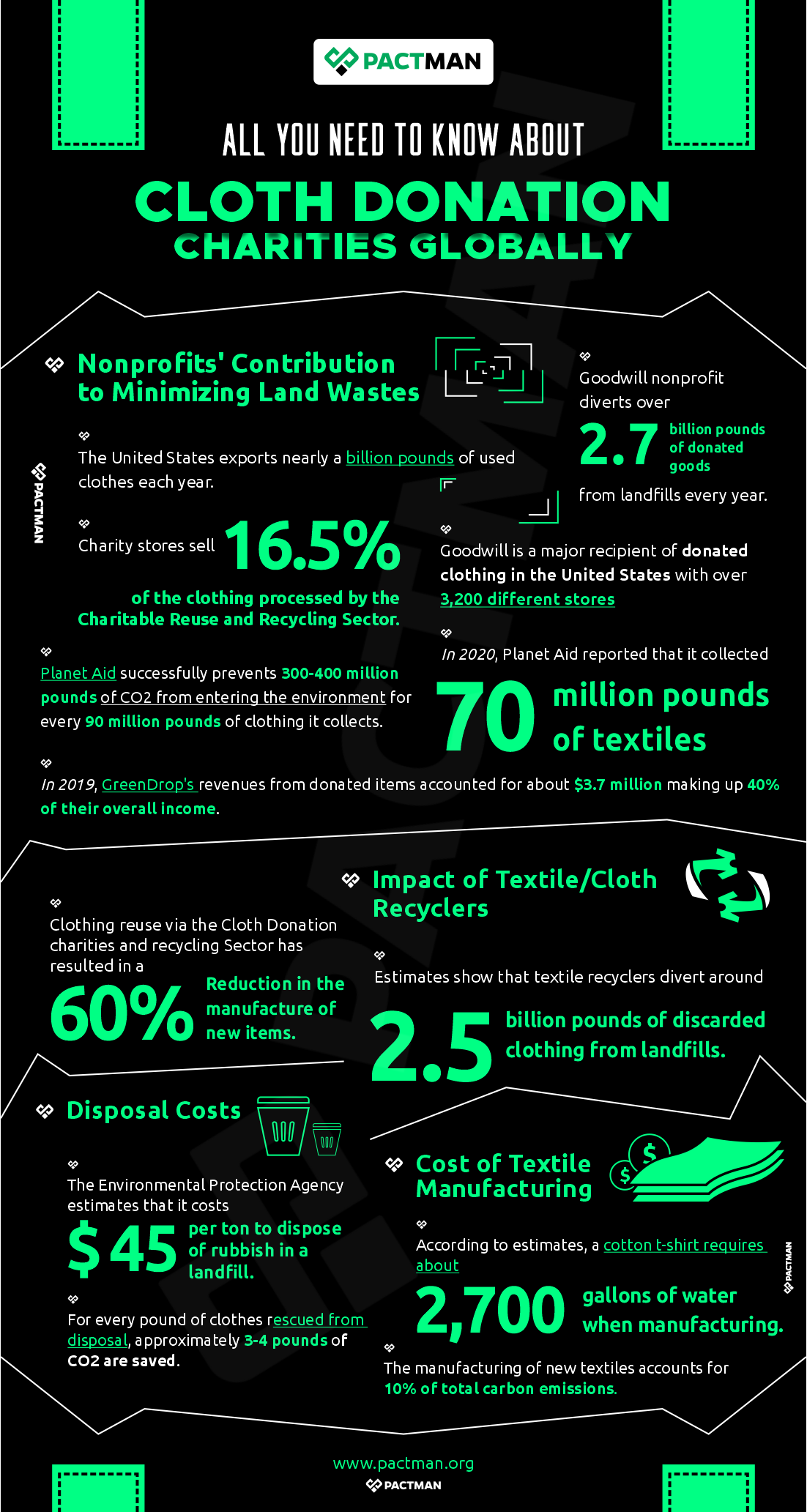 Also, the circular economy assists in creating a more sustainable world in which things do not go to waste as easily and everything is utilized to its full potential.
Following the rise of fast fashion, the material flow of clothing has come under scrutiny. Fast fashion refers to the rapid and low-cost production of garments to match consumer demand for the most recent fashion trends. Fast fashion supports increasing clothes consumption and a throw-away mentality as goods that are no longer stylish can be replaced cheaply. However, the charitable reuse and recycling sector continues to curtail the impact by repurposing the use of clothes. 
6. Increasing Children's Confidence 
Clothing contributions have a positive impact on children's self-esteem, according to orphan organizations around the world. Orphanages in India, the Philippines, and other underdeveloped countries frequently lack the resources to clothe all of the orphaned children in their care. So, when these children do receive gift wears, you can observe an immediate boost in their confidence and self-esteem. 
7. Eco-Friendly Practice
The world generates an astounding quantity of textile waste, which can be considerably reduced through garment donations and other recycling methods. Cloth donation charities encourage eco-friendly practices which in turn promotes sustainability. 
These organizations also contribute to the conservation of water and energy use for new outfit production which will help offset the generation of carbon emissions during the manufacturing process.
The impact of cloth donation charities includes both direct and indirect environmental benefits. These organizations extend the life of things particularly apparel and textiles, by reselling them or gifting them. By and large, this decreases the need for new products to be made from raw materials.
V
NGOs Leveraging Cloth Donation Initiatives to Improve Sustainability
Textile waste is a global environmental issue that organizations are working to remedy. And the most efficient strategy to reduce waste is to avoid creating it in the first place. We will consider organizations that are known to address cloth waste through impactful initiatives.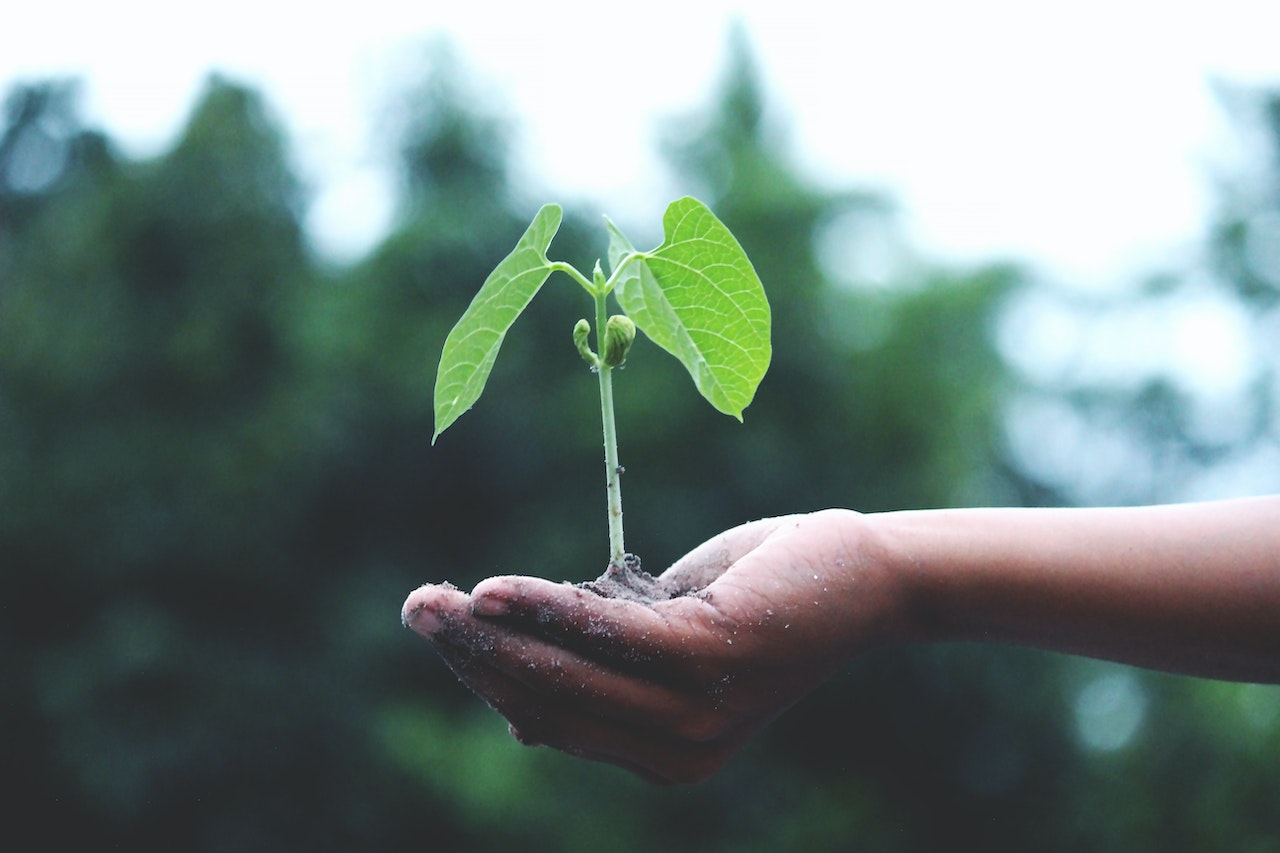 Oxfam promotes the circular economy and sustainable fashion by reusing, reselling, or recycling used clothing. The organization works to eradicate clothing waste and raise funds to end poverty. Oxfam encourages its customers to donate unwanted clothing to its UK charity stores located in over 600 high streets across the country. 
Likewise, the organization markets 'pre-loved' apparel as desirable and sustainable through activities such as fashion shows, photo shoots, and celebrity donations. Through collaboration with major corporations such as M&S and Sainsbury's, Oxfam has successfully curtailed the number of items that end up in landfills. The organization's take-back programs also encourage more people to donate clothing through textile banks and workplace donation points. 
This corporation donates its rarely used business attires thereby enabling responsible consumption and production. As part of Transcendent Group's CSR initiative, the corporation has a specialized team that seeks to deliver the UN's Sustainable Development Goal 12 which entails responsible consumption and production. 
Team members successfully undertake a CSR activity, collecting business outfits and accessories to donate to second-hand shops in Sweden and Norway. The committee adopts an approach that contributes to a more sustainable environment with less consumption. In addition, the committee assists those in need simply by asking everyone at TG to give their rarely used business attire. 
Transcendent Group has shown an effective way to promote sustainability within an organization. By encouraging each staff to donate to secondhand stores, an organization can extend the life of clothing and also contribute to more responsible consumption and production.
GreenDrop collaborated with the American Red Cross to raise revenue by reselling donated clothing. This organization generates earnings by collecting donated furniture and clothing. Afterward, donated items are sold and the revenues are used to support its philanthropic programs and missions which include assisting the impoverished, blind, and American warriors. 
In New Jersey, GreenDrop leverages its various goods and apparel donation drop-off locations to take items on behalf of the American Red Cross. The organization also provides a simple pickup service on behalf of the Military Order of the Purple Heart. GreenDrop aims to foster green mission by empowering kids and communities on the need for environmental preservation. The organization also adopts community participation by allowing citizens to directly participate in helping American organizations. Its mission is stated in simple and clear terms: repurpose, recycle, and help others.
In 2019, the revenues from donated items accounted for about $3.7 million making up 40% of their overall income. The cash was distributed to charities to support their local and national activities.
Goodwill is a renowned charity that also accepts clothing donations. The organization's shop earnings go toward helping people improve their careers and find employment. This includes placement services, job training, and other community-based activities.
Also, rather than dispose of unsold items in landfills, the organization donates them to recycling companies. Estimates show that textile recyclers divert around 2.5 billion pounds of discarded clothing from landfills. Goodwill alone diverts over 2.7 billion pounds of donated goods from landfills every year.
Goodwill is a major recipient of donated clothing in the United States with over 3,200 different stores. What doesn't sell in stores goes to Goodwill auctions, which are live events where attendees bid on containers of donated stuff without knowing what's inside. This environmentally responsible nonprofit accepts new and already used clothing, accessories, and shoes, as well as appliances, furniture, books, and other household items. 
Unlike other organizations, Planet Aid accepts both good and bad-condition clothing. The organization allows people to donate and recycle unwanted apparel, preventing it from ending up in landfills. In 2020, Planet Aid reported that it collected  70 million pounds of textiles. With its iconic yellow container spread across strategic locations, the organization has created a simplified system of keeping textiles out of landfills. 
For every pound of clothes rescued from disposal, approximately 3-4 pounds of CO2 are saved. Consequently, Planet Aid successfully prevents 300-400 million pounds of CO2 from entering the environment for every 90 million pounds of clothing it collects. This is by ensuring that every pound of clothing positively impacts the environment.
The organization sells and recycles donated clothing before sending it to impoverished countries. Afterward, all sales earnings are used to combat poverty in such areas. Planet Aid also collects curtains, towels, beds, and shoes.
Becca's Closet is a national foundation that distributes mostly formal dresses to impoverished high school girls who cannot afford them. The foundation was founded in memory of Rebecca Kirtman who gave more than 250 prom dresses to impoverished girls in South Florida to enable them attend prom. 
NGOs definitely constitute prominent players in sustainability development. Not to mention, the NGO landscape has changed dramatically in size and profile. NGOs are larger, more numerous, and more sophisticated than ever before. This has led to a more diversified impact. The rise and growth of cloth donation charities prove the critical role the sector plays both nationally and globally. 
Conclusion 
The charitable reuse and recycling sector is critical to a country's transition to a circular economy. Cloth donation charities extend the life of things by reselling them. Hence, they decrease the need for new products to be made from raw materials. This has also become a thriving revenue-based initiative that has assisted in supporting diverse social projects that impact communities. 
Also, in addition to reducing waste sent to landfill, these organizations have provided both direct and indirect environmental benefits. This includes reduced resource consumption, as well as economic and social benefits such as volunteerism and the creation of entry-level jobs.