Clothing plays a vital role in our lives, providing protection, comfort, and self-expression. Unfortunately, many individuals and families in South Africa struggle to afford even the most basic clothing necessities. In the face of this challenge, cloth donation charities have emerged as beacons of hope, bridging the gap between those who have surplus clothing and those in dire need.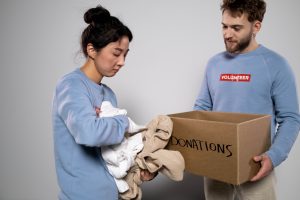 Kidz2kidz encourages people and institutions to donate fairly used clothing.

Dress for Success helps to boost self-esteem by providing people with suitable interview wear.
Cloth Donation Charities Making an Impact In SA
By donating clothing, individuals, and organizations can make a tangible difference in the lives of those who have surplus clothing and those in dire need. Some remarkable charities are dedicated to this noble cause of cloth donation. Here are a few of them.
1. Clothing Bank
The Clothing Bank is an organization that tackles poverty and unemployment by empowering women through enterprise development. They collect donated clothing, which forms part of the resources provided to women entrepreneurs, enabling them to start and grow their businesses. By facilitating access to clothing, the Clothing Bank not only supports individuals but also promotes economic growth in disadvantaged communities.
2. Kidz2Kidz
With a focus on addressing the needs of vulnerable children, Kidz2Kidz runs various campaigns, including the "Clothes 2 Good" initiative. This initiative encourages individuals and schools to donate pre-loved clothing, which is then sorted and distributed to children in need across South Africa. Through their efforts, Kidz2Kidz brings warmth and smiles to the faces of countless young individuals, ensuring they have adequate clothing for daily life and school attendance.
3. Dress for Success
Dedicated to empowering women in need, Dress for Success collects professional attire donations to assist women entering or re-entering the workforce. By providing clothing suitable for job interviews and workplace environments, Dress for Success helps to boost self-esteem and improve employment prospects for disadvantaged women. This has contributed to promoting economic independence and social mobility.
4. Street Store
The Street Store is an innovative concept that transforms public spaces into pop-up "stores". This store allows the homeless to shop for free. Individuals and organizations donate gently used clothing. The clothing is then displayed in an open-air setting, allowing homeless individuals to choose items that best suit their needs. This unique approach brings dignity and choice to those experiencing homelessness while fostering community engagement and empathy.
Conclusion
Cloth donation charities in South Africa play a crucial role in addressing the clothing needs of vulnerable individuals and communities. By mobilizing resources, these organizations alleviate poverty, promote economic empowerment, and restore dignity to those in need. The generosity and compassion of individuals who donate their clothing can make a tangible impact on the lives of others. This helps to bridge the socio-economic divide and build a more inclusive society.
If you have unused clothing lying in your closets, consider donating it to a local cloth donation charity in South Africa—your contribution can change lives.
Please let us know if you enjoyed reading this post. Please leave us a comment at the bottom of this post.