When considering the best charities to donate to, the first thing that springs to mind is a reputable organization.  However, sorting through the millions of nonprofits that exist can be somewhat tasking. Hence, we've compiled a list of the top charities to consider for donation.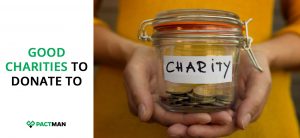 The charities you choose to donate to will be decided by the cause you want to support.
Picking the best charities to donate to will help you make an impact on humanity.
Best animal charity to donate to-
American Humane Society is an organization that cares for animals, both large and small. This includes wild animals like lions and domesticated animals like dogs. The veterinary nonprofit was founded in 1877.
Your donations go a long way in helping animals find a place to live. Funding also help provide urgent care for the animals when needed. The organization also focuses on promoting intimate relationships between people and their pets.
Best cancer charity to donate to –
The Cancer Research Institute conducts studies and research on the prevention, diagnosis, and treatment of cancer and all cancer kinds. Likewise, the organizations also support additional research in other areas. Some of its programs include cancer research, clinical research, and public education. In addition, the institute trains emerging cancer researchers.
By and large, the organization invests eighty-cent of every dollar donated to its programs.
The best charity that supports the Black community –
A better future for Black people is being created by the civil rights organization, Color Of Change. This nonprofit has 7 million members and is the biggest online racial justice organization in the US. Furthermore, they design campaigns that empower Black communities, promote Black joy, and work toward forward-thinking fixes that influence the long term.
Best COVID-19 charity to donate to –
Looking for an exceptional COVID-19 charity to donate to? Direct Relief constituted one of the best charities to donate to during the pandemic. The organization has a wide distribution. Also, it employs its resources in providing medical aid such as medicines and facilities to hospitals in the United States and globally. As a result, over 500 health facilities and organizations have received $74.5 million in grants. 
Best legal aid charity to donate to –
According to estimates, more than 365 people have proven innocent thanks to DNA evidence. The innocence project examines unsolved crime cases with new and scientific evidence (DNA). It also works to free those wrongly convicted. The innocence project aims to stop wrongful incarcerations by advocating for the reform of the U.S justice system.
Best veterans charity to donate to –
"Hope for the Warriors" provides a complete care program for service members, veterans, and their families. The organization focuses on health, community, and support for those transitioning from the military to civilian life.
Best women's health charity to donate to-
This nonprofit seeks to create a world where every woman is treated equally and has the right to make important decisions about her reproductive health. The organization's attorneys fight for the right to give women access to contraceptives and abortions.
Best education charity to donate to –
There are several students in high school that desire to attend college but lack the necessary cash. Others also long to attend college, but the cost is prohibitive. Scholarship America assists in covering the expenses and lends money to deserving students so they can pursue higher education. The majority of the organization's cash budget is used to fund college tuition for individuals through scholarships, financial aid, and college-preparatory programs.
Best disaster relief charity to donate to
Operation USA sends earthquake recovery aid to Ecuador, Nepal, and Native Americans in South Dakota. The nonprofit was founded in 1979. Operation USA not only focuses on disaster relief and reconstruction, but it also assists in educating underserved communities.
Best Alzheimer's charity to donate to –
The "Alzheimer's Association" is committed to fighting and curing Alzheimer's disease. The organization also provides support to other people through donations they receive.
Above all, Alzheimer's Association facilitates access to care in local areas for persons living with Alzheimer's. The organization advocates for Alzheimer's research, locally and internationally.
Conclusion
Giving to charities is a fantastic idea, but it is best to be aware of some of the most effective nonprofit organizations in the US. You can make a wise choice by considering the causes and charities mentioned below.
If you enjoyed reading this article, please share your comments and suggestions with us at the bottom of the post.