Without a foundational understanding, it is impossible to craft a nonprofit mission statement. Several benefits come with having a mission statement for your NGO. Firstly, a mission statement tries to establish the organization's reputation and express its goals. Additionally, a mission statement draws in funders and volunteers as it provides them with information about the organization's standards and values. Lastly, it allows the public and businesses to form favorable impressions of your organization.
In this article, we will discuss some key elements to note when writing a statement for a nonprofit. However, we will begin by providing a brief explanation of a nonprofit mission statement.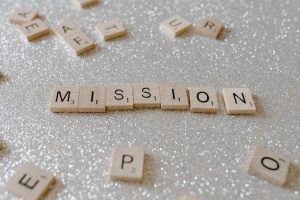 A mission statement aims to communicate the objectives of the organization and improve its credibility

A mission statement also attracts volunteers and donors.

The language in your mission statement should be clear and concise.
What is a nonprofit mission statement?
A nonprofit mission statement describes the aims and objectives of the NGO. It also serves as a medium through which the organization informs people of its initiatives and goals. The fundamental objective of a mission statement is to apprise the public about its immediate objectives and long-term pursuits.
Hence, a mission statement should possess certain qualities. First, it must provide details of those who stand to benefit from its objectives and the intended outcome. It must also describe how the aforementioned points will be achieved. Since teamwork is essential to every organization's success, it must also be incorporated.
A  mission statement defines the overall purpose of the organization. Whereas, the vision statement highlights where the organization aspires to be in the years to come.
There are several reasons why organizations require a nonprofit mission statement. Generally, a clear mission statement helps to motivate workers, volunteers, and donors. All parties are enlightened to know that success is only possible if all of these factors come together harmoniously.
Likewise, most decisions will be based on the nonprofit statement. Therefore, it's important to take care to protect the organization's aims and objectives.
Lastly, a mission statement summarizes the organization's intention as it helps to communicate its plans.
Tips on how to write a nonprofit mission statement
Here are a few effective tips to consider when crafting your nonprofit mission statement.
A mission statement shouldn't be overly wordy or it will lose its essence: As much as possible, try to keep your objectives clear and to the point.
Your mission statement should possess understandable vocabulary and should not be a means to show off: Maintain a balance between keeping it straightforward, appealing, and educational.
Should not exceed 20 words: All important information should be conveyed in one statement.
Be careful not to hide the aim and objectives of the organization: It is good to be transparent and concise with the organization's purpose and objectives.
Also, get your team members involved by seeking their opinions and acknowledging them in the mission statement.
Conclusion
The importance of a clear mission statement to the success of a nonprofit cannot be overemphasized. Therefore, if this is to be accomplished, it is crucial to draft a proper statement. This will give people a vivid understanding of the organization's goals and objectives.
A nonprofit mission statement can also help attract volunteers or donors to the organization.
Carefully adhere to the guidelines listed in this article and you are well on your way to crafting an effective mission statement for your organization.
If you enjoyed reading this article, please share your thoughts and comments with us at the bottom of the post.