The Philippines is home to a large number of nonprofit organizations. Hence, knowing the best charities to donate to can often pose a challenge.
In this article, we will outline some of the most impactful nonprofits in the Philippines. This is to ensure that your donations are used to further a worthwhile cause.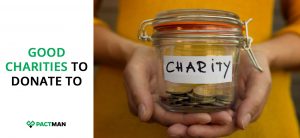 Nonprofits in the Philippines work to improve society through their programs.
These range from educational initiatives, forestry programs, mental health, etc.
What are some of the best charities to donate to in the Philippines?
Are you seeking ways to contribute to the welfare of people as well as communities? We will consider six charitable organizations known for their impact in the Philippines.
1. Philippines World Vision
World Vision is the largest children's charity in the world. Accordingly,  the Philippines are served by the national branch of World Vision. This nonprofit aspires to give hope to thousands of youngsters in underprivileged rural and urban locations.
World Vision Philippines has been operating in the nation for almost 60 years.
2. The GreenEarth Heritage Foundation
GreenEarth Heritage Foundation is a Christian organization that provides support to underprivileged communities. The nonprofit undertakes a wide range of initiatives that seek to alter society. This includes reforestation programs, educational initiatives, and sustainable means of generating income through organic farming. You can choose to support their effort by purchasing the moringa-based tea and powder offered by GreenEarth.
3. CARA
CARA is an acronym that stands for Compassion and Responsibility for Animals. Generally, the nonprofit established in 2000 advocates for animals. CARA stands out as one of the most renowned animal shelters in the nation. Likewise, several communities are familiar with its adoption services and spaying and neutering programs.
One popular project carried out by CARA is the "Save the Laguna Pit Bulls." These pups are rescued from organizations that train the animals to engage in dog fighting. Following their rehabilitation, they are given loving homes.
4. Liter of Light by MyShelter Foundation
This nonprofit supports individuals who need affordable building materials and sustainable infrastructure in their neighborhoods. Liter of Light converts recycled plastic bottles into solar lights.
Each bulb provides light to Filipino families without access to power and operates much like a standard 55-watt bulb. This light emits no carbon and can prevent the waste of 64 kilograms of carbon per year.
5. Health of the Mind PH
Since 2016, Mind You has contributed to enhancing the mental health of communities nationwide. The nonprofit seeks to increase public awareness of mental health so that communities can be equipped to address these issues. Additionally, they collaborate with several industries to identify sustainable solutions.
6. Dream Big Pilipinas
Dream Big Pilipinas makes numerous efforts to keep disadvantaged children off the streets. Teaching young girls and boys to read and write is one of this group's key objectives.
In addition, Dream Big Philippines raises funds for scholarships and assists in ending child labor. The nonprofit also teaches young people to play football to aid in the development of their sense of discipline and purpose.
Conclusion
When you donate to local charities, you provide significant support by helping those in need. Your little contributions go a long way in addressing poverty, sickness, starvation, and catastrophes.
Please share your thoughts and recommendations with us at the bottom of this post.