Non-profit organizations are crucial for helping the underprivileged in any nation. Hence, when choosing the best charities to donate to, it is crucial to consider their impact in and across communities.
Nigeria, the most populous country in Africa is known to receive a large amount of aid. This in turn has assisted in funding several initiatives in the country.
Are you considering some of the best charities to donate to in Nigeria? In this article, we will outline a few of them.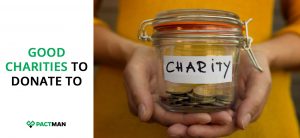 Several Nigerian charities are committed to breast cancer causes.
Other nonprofits assist in making education accessible to the youth.
What are some of the best charities to donate to in Nigeria?
We will consider seven nonprofits in Nigeria that are making huge strides and impacting communities.
W.TEC works to promote gender equality in the technology sector. By and large, this nonprofit is one of the foremost authorities on issues related to gender and technology.
The organization aims to support the subsequent generation of female technology innovators, business owners, and leaders. Young women are empowered to participate in technology-based projects that include presentations, media appearances, mentoring, and job placements.
W.TEC has trained almost 32,000 young Nigerian women and girls in information and communication technology through its work in 13 states.
EVA's goal is to provide young Nigerians with the opportunity to develop into the best versions of themselves. The nonprofit is one of the most effective and well-established education charities in Nigeria.
EVA was founded in 2000 by two Nigerian women. Overall, the organization has educated and trained approximately 720,000 people on different topics. This includes HIV and AIDS, violence against women, and reproductive health.
EVA works to spread relevant knowledge on young people's health and protection to bring about societal change. In so doing, future generations will enjoy a higher standard of living.
The educational program provided by YEDI seeks to assist young people in making wiser life decisions. The nonprofit conducts activity-based classes with teenagers in both classroom environments and community outreach settings. These activity-based classes help to empower young ones in various life skills relating to leadership and negotiating, developing interpersonal connections, and financial management.
Likewise, these classes have successfully informed young people about significant topics. Some of such topics include gender inequality, substance misuse, sexual and reproductive health, personal hygiene, HIV, AIDS, and malaria.
The Cece Yara Foundation focuses its significant efforts on sexual assault prevention. The charity's mission is to ensure that every child in Nigeria grows up in safety and happiness, free from abuse and the danger of violence.
Cece Yara has been operating for over five years. The nonprofit has a multidisciplinary staff of counselors, social workers, child advocates, attorneys, and a 24-hour free kid telephone helpline. Furthermore, the foundation offers other diverse services. This includes initiatives for preventative education and awareness, a refuge for the homeless, and counseling and support services.
Taste is a registered charity that has been in operation since 1999. The nonprofit promotes sustainable technologies to enhance Nigeria's water supplies under the tagline "Life transforming water."
Taste's community outreach activities include providing clean water, educating kids about the value of cleanliness, and exploring potential new water sources.
According to reports, 23.5% of Nigerians admit to defecating in public, which can lead to dangerous side effects like diarrhea and enteric infections. Building boreholes for pure drinking water is one of Taste's persistent efforts to stop the intake of this contaminated water.
She Writes Woman seeks to dispel the stigmatized and false perception of problems with mental health. This biased notion is rampant among Nigerians, particularly women.
She Writes Woman was founded in 2016 by Hauwa Ojeifo. Hauwa strives to create a safe space for other women to open up after suffering mental health issues. Hence, she has made significant progress in normalizing the subject and helping individuals in need as a result.
The nonprofit strives to change the perception that mental health issues are "a taboo, a punishment for wickedness, a weakness, and something that must be tossed away."
Evidently, there are over 38% of female cancer patients in Nigeria, making it the most common type of disease. To this end, BRECAN was founded to speak up for those dealing with breast cancer. The nonprofit also assists women who would otherwise die from the disease as a result of a lack of information or support.
Breast cancer survivor Betty Anyanwu-Akeredolu established the organization in 1997 after observing the lack of concern for the disease. 
Conclusion
Overall, the well-being of most West African nations is significantly improved by nonprofit entities. As a result, providing support to NGOs assists in improving the well-being of communities.
Are you seeking some of the best charities to donate to in Nigeria? You can consider any of these seven nonprofits outlined in this article.
Please share your thoughts and recommendations with us at the bottom of the post if you enjoyed reading this article.