The social impact of a nonprofit cannot be overlooked. By and large, every charity works to further a specific cause. Hence, knowing the best charities to donate to can inform your choice of giving. Likewise, all NGOs share a common goal: supporting humanity.
As Winston Churchill so put it, "we make a livelihood by what we get, but we create a life by what we give."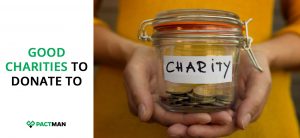 Charities in India work to empower unemployed youth.
While others support the education of the girl-child.
What are some of the best charities to donate to in India? 
Here are a few charities to consider to inform your choice of donation. These organizations stand out for their unique act of service to humanity and nature at large.
This nongovernmental organization works to improve the welfare and development of underprivileged street children, orphans, homeless women, and the elderly. SERUD has been operating since 2003, focusing on providing access to healthcare, food, education, and training for sustainable livelihoods.
Over 180 disadvantaged children now have creche facilities, thanks to the support of SERUDS. Additionally, unemployed youths are also given access to six months of computer skill development training.
Child Rights and You is a non-profit, non-governmental organization in India that works to improve the lives of disadvantaged kids all around the nation. Essentially, malnutrition among kids is one of the issues that CRY seeks to address.
To give kids access to fresh, wholesome food, CRY implemented various kitchen gardens in Chhattisgarh's Anganwadis. This has gone a long way in supporting disadvantaged kids. 
Women Empowerment NGOs have become the primary support channel for Girls' Education. This is also the same for Aarti for Girls nonprofit. The NGO began as an Aarti Home, a sanctuary for abandoned kids. Currently, Aarti Home has welcomed over 1,000 kids through its doors. It has further developed into a haven for kids who have experienced abuse, trafficking, and abandonment.
Goonj is a charitable organization with its main office in Delhi, India. The nonprofit specializes in community development, disaster relief, and humanitarian help.
One of Goonj's campaigns is "Share a Bite to your Heart's Delight." It is an initiative to get individuals to provide the less fortunate with daily necessities like rice, beans, and other essential items.
The Udaan Welfare Foundation seeks to provide high-quality healthcare while considering how its efforts will benefit the environment. Also, the nonprofit seeks to advance other concerns, such as nutrition, which is closely related to healthcare.
Over 50 to 60 local youngsters receive daily breakfast rations from Udaan once a month. In addition, Udaan performed a dental health examination at the Harikishan English Public School.
HelpAge India works with and for the elderly who are underprivileged in India. For more than 40 years, the NGO has worked to establish healthcare facilities and rights, among many other things.
HelpAge India has built model homes for the elderly in cities like Patiala & Gurdaspur in Punjab, Cuddalore in Tamil Nadu, and Kolkata in West Bengal. In addition, HelpAge has remodeled over 60 old people's homes in India.
Conclusion
Regardless of religion, caste, or race, it is important to respect the human tendency to assist those in need.
Please share your thoughts and recommendations with us at the bottom of the post if you enjoyed reading this article.