The act of giving is one worthy cause that has spurred development across the globe. Likewise, choosing the best charities to donate to helps you channel your giving to causes that you hold dear.
In this article, we will provide you with some of the nonprofits in Australia dedicated to serving communities, nations, and even the world. This is to help guide you in your choice of donation.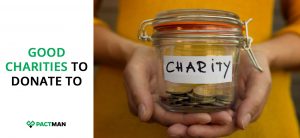 Australia has about 60,000 registered charities with 2,625 new charities registered in 2019.
Some of these charities have exceptional causes that continue to attract donor funding.
What are some of the best charities to donate to in Australia?
Below, we have outlined nine impactful charities that you may want to consider for donations.
1. Australia for UNHCR
Australia for UNHCR is a nonprofit that raises money and offers assistance to the UNHCR. It aids those who are refugees from all around the world. Additionally, it brings attention to people who flee their homes during wartime.
2. The McGrath Foundation
The McGrath Foundation is a charity that supports people with breast cancer in Australia. The nonprofit also makes available nurses to offer physical and emotional support to those dealing with breast cancer and their families.
3. The Smith Family
The Smith Family offers hope for a better life to poor young people. The nonprofit also assists underprivileged Australian youth with their education from the early years through post-secondary education.
4. Still Aware
Australian nonprofit organization, Still Aware, seeks to increase public understanding of stillbirth within local communities. The organization also assists parents who have suffered stillbirth experiences. Even more, Still Aware is making all effort to eradicate the taboo around the topic through open discussion.
5. Tour de Cure
Tour de Cure is an Australian nonprofit organization that uses cycling to treat cancer. The nonprofit initiates fun training like bike races and activities. All funds obtained from the event are channeled to support medical and scientific research.
6. Wheelchairs for Kids
Wheelchairs for Kids provides children worldwide with rugged terrain wheelchairs. Hence, youngsters in isolated, rural, or impoverished areas can reclaim their independence, thanks to the unique chairs offered by the nonprofit.
7. The Endeavour Foundation
The Endeavour Foundation facilitates access to education and life skills for people with learning disabilities. The nonprofit empowers people to broaden their educational horizons, make new friends, learn new skills, and discover employment opportunities.
8. Diabetes NSW and ACT
Diabetes NSW and ACT help patients with diabetes live better lives. The nonprofit represents diabetics' interests by providing legal counsel on concerns like job discrimination. The organization also supports friends and family members of diabetic patients.
9. Orange Sky Laundry
Orange Sky Laundry helps Australian citizens without homes obtain warm housing and hygienic clothing. The nonprofit achieves this by delivering free laundry and bathing facilities.
Likewise, nonprofit volunteers provide listening services to the homeless. Even more, faraway communities are offered partnerships, regional employment, and laundry services.
Conclusion
Having money for day to day costs and for serving communities is essential for nonprofits. Donations by people like you empower Nonprofits to provide the resources needed to carry out different activities and tasks needed by the needy.
Individuals and corporations seeking some of the best charities to donate to can consider any of the nonprofits outlined in this article.
Please share your thoughts and recommendations with us at the bottom of the post if you enjoyed reading this article.