Understanding how to start a nonprofit is crucial when setting up your organization. By and large, nonprofit organizations engage in philanthropic activities, address governmental issues, and support policy development.
There are three ways to launch a nonprofit organization in Zimbabwe.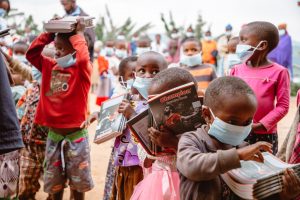 There are three options for establishing a nonprofit in Zimbabwe.
A Notary Public writes and prepares the trust deed for trust registrations.
How to Start a Nonprofit Organization: From Three Possibilities
There are three alternatives available in Zimbabwe for the establishment of nonprofits. Altogether, NGOs can be set up under a Private Voluntary Organization (PVO), a Trust Deed, or Common Law Universitas. However, these entities must comply with all legal responsibilities.
1. Establishing a Nonprofit Organization as a Trust.
The Deeds Registries Act, which enables the Registrar of Deeds to register notarial deeds in donation or trust, regulates trusts. Trusts often have unrestricted goals and are frequently known to support a certain constituency.
For the most part, a trust may be set up for philanthropic purposes or personal gain. Whichever form, the trust deed will make it evident if it was created to undertake benevolent intentions. A trust lacks a separate legal personality, however, it may sign contracts in its name if the trust deed enables it.
Unlike an NGO which is registered under the PVO Act, this type of registration calls for the assistance of a registered Notary Public. The Notary Public must write and prepare the trust deed and other necessary paperwork. The notary public will also register the deed with the office of the Deeds' Registrar.
Conditions For Registering a Trust.
Trust's name

Trust's objectives

Trust's addresses

trust's beneficiaries

Information on one to four founders (full names, ID numbers, and dates of birth)

Information about at least 4 trustees (full names, ID numbers, and dates of birth)

Participation fee

Keep all the identities and addresses of the parties to the trust up to date. 

Any changes to the information on directors or trustees must be communicated in writing to the Registrar of Deeds within a month of the change taking place.
2. Starting a Nonprofit as a Private Voluntary Organization.
A PVO is primarily "anyone or association of persons, corporate or unincorporated, or any institution that aspires to further the social welfare of people." The Private Voluntary Organization Act (PVO Act) in Zimbabwe governs the registration of nonprofits. Likewise, the Ministry of Public Service, Labor, and Social Welfare handles the registration process. 
Functions of a PVO
To fulfill the social, emotional, or material needs of a person or family

To donate to those in need or to families in need

To prevent social ills and poverty among individuals

or families

To assist or promote initiatives that seek to raise the standards of living of

people or families

To allocate money for legal assistance

To ameliorate animal cruelty or advance animal welfare

To provide necessary items 

To gather donations for any of the aforementioned issues
Registration Requirements For PVOs
Registration forms: The Ministry of Labor and Social Services Department in Harare, as well as the district and provincial offices of the same ministry outside of Harare, both sell registration forms and applications for registration.
Name of the NGO
The organization's goals
the foremost Executive Council or Executive Board members (these should be between two and twenty persons).
Key board members' resumes
Information about the directors and secretary (which includes their names, nationalities, usual residential addresses, and business occupations)
Name and location of the auditor Upon approval of your application, the Registrar will assign you an auditor if you don't already have one.
The registered office's address and P.O. Box
If the organization is a foreign NGO, the country representative must have a clearance certificate from Interpol or the local police.
The charter of the organization
public notification in national newspapers, as demonstrated.
Registration process
Upon submission of the aforementioned documents, anyone may file an objection to the application's grant with the Registrar within the required time frame. However, they must outline the reasons for their objection.
Public notice in newspapers. This is to encourage anyone who has objections to submit them to the Registrar of PVOs within the specified time frame (within 21 days of the date of publication).
Any such objection must be presented to the PVO Board by the Registrar for review.
The PVO Board will decide whether to accept or reject the application for registration if all the necessary documentation is in order.
It can take from three months to a year to register.
3. Setting Up a Nonprofit under the Common Law Universitas.
This is the simplest way to start a nonprofit. It typically occurs when two or three partners decide on a written constitution. Similarly to this, the constitution must have specific objectives and plans. Although few organizations utilize this configuration, it's nonetheless a straightforward option.
Become a Member of the Zimbabwe Revenue Authority (ZIMRA)
To pay employee tax (PAYE) on behalf of your employees, register with ZIMRA.
Sign Up With the National Social Security Administration (NSSA)
The NSSA registration allows your organization to register its employees for social security benefits, including pensions and workers' compensation insurance.
Sign up with National Employment Council (NEC)
To strengthen work relations, register with the National Employment Council (NEC). Nonprofits are covered by the NEC for Welfare & Educational Institutions, which has a body for each industry.
Conclusion
It takes a lot of work to establish a nonprofit organization in Zimbabwe. It is, however, the foremost step toward making the needed impact in your community. Be sure to confirm that your organization satisfies all standards and gets off to a great start by having the appropriate resources, contacts, and information.
If you enjoyed this article, please share your comments with us at the bottom of this post.