The UN Office for the Coordination of Humanitarian Affairs (OCHA) classifies Burundi among the world's poorest nations. The humanitarian situation remains a critical issue for the various types of nonprofits in the country. As a result, over 1.7 million citizens suffer from food insecurity.
Partisan politics has been the major cause of ethnic rivalry since the nation's independence in 1962. This intense conflict has lasted for decades resulting in the mass exodus of citizens.  Also, thousands of residents have lost their homes and resorted to internal displacement and temporary settlement in neighbouring regions.
In this article, we will consider the types of nonprofits in Burundi and their contributions to solving the nation's crisis.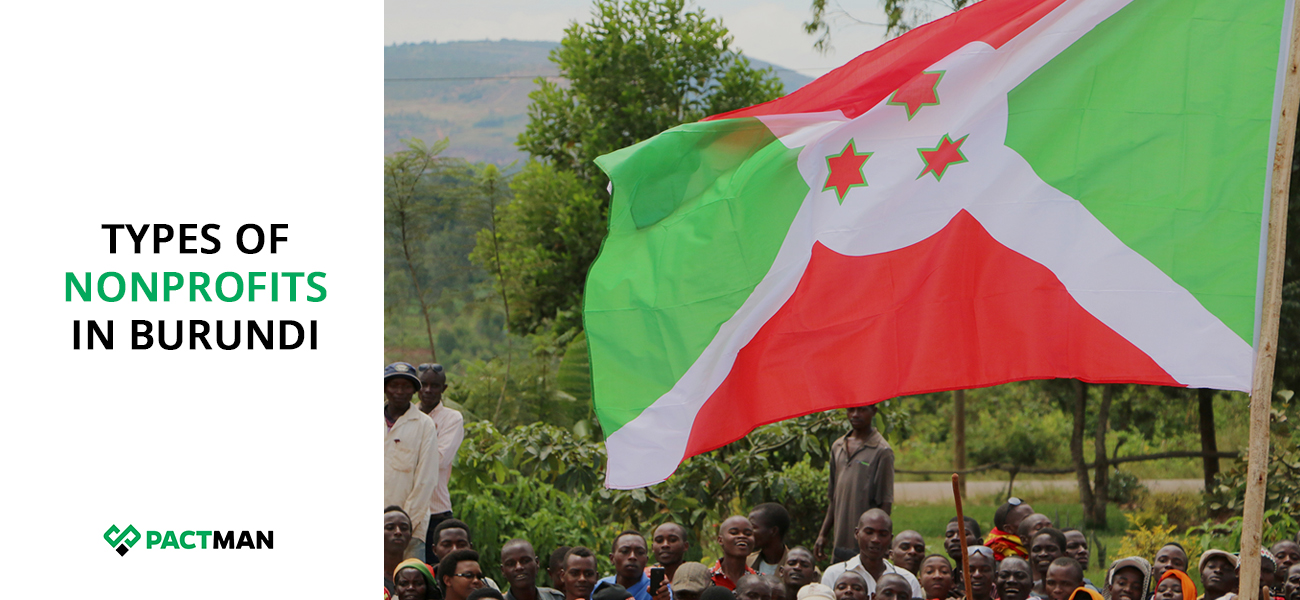 Burundi's nonprofit sector recorded a decline in the number of international assistance since 2015
This is largely due to the country's infringement of civil and political rights
There have been several cases of suspension and revocation of nonprofit's authorizations
What are the types of nonprofits in Burundi?
The legislative framework that governs religious freedom also governs nonprofit entities in Burundi. The types of nonprofits recognized in the country include: 
1. Community-based organizations (CBOs): these foundations are restricted to a particular area or region of the community. Charitable organizations and nongovernmental organizations can also serve in the capacity of CBO.
These types of nonprofits serve the needs of the community and perform roles that foster social development. Hence, all the activities of CBOs are centred around the community. Key issues are identified by community residents who also proffer solutions. 
2. Nongovernmental organizations (NGOs): these types of nonprofits are created to advance a social cause and benefit the public. NGOs are granted tax-exempt status and are required to serve the needs of citizens in a specific area. This could be either by providing goods and services or both to cater to the welfare of citizens. 
Some NGOs receive income to allocate to authorized charities in the country. However, their financial operations and contributions are to be made public to keep donors informed of their activities.
3. International Nonprofit Organizations (INGOs): these types of nonprofits are known to function globally. INGOs are also referred to as not-for-profit voluntary associations. Their members are spread across various countries with wider base activities cutting across nearly all domains. A large number of INGOs are human rights organizations. They also comprise foundations, advocacy groups, aid and relief organizations, and research centres among others. 
How many nonprofits are in Burundi?
The African Commission on Human and Peoples' Rights records over 4180 approved NGOs in Burundi. There are however some nonprofit entities that are still in the process of gaining approval. 
The report also shows a decline in the number of international assistance since 2015. This is largely due to the country's infringement on civil and political rights. 
Burundi recently approved two laws in January 2017 for nonprofits. These laws impose restrictions in the area of freedom of association. Likewise, more authority has been given to governing bodies to control the activities and resources of NGOs. This has led to several arrests, prosecutions and harsh sentences of civil society organizations by the commission. 
In view of this, there have been many cases of suspension and revocation of nonprofit's authorization. Also, governmental authorities are yet to revoke the international arrest warrants issued against the heads of such nonprofits.
Burundi is ranked among the most demographically vulnerable countries globally. This signifies that the intense population growth may aggravate the country's prevalent issues. Hence, the nation may witness heightened hunger, political instability, environmental degradation, poverty and water scarcity. 
With the harsh treatment of nonprofits in the country, there is little possibility that Burundi may gain the needed help to overcome the many prevalent crises.  
Conclusion
Burundi's recurring political issues continue to cripple the activities of nonprofit organizations. As a result, citizens no longer enjoy economic and social rights privileges. The violence in the nation has been attributed to the failure of the government to satisfy the basic needs of citizens. Hence, Burundi in 2016, shifted from a developing nation to a country in a state of humanitarian emergency. 
Nonprofits can only thrive in a democratic system that allows for freedom of expression. Most of the issues being faced in Burundi can be addressed by nonprofits if given the freedom to undertake their roles. Therefore, there is a critical need to address the various human rights violation and crimes against humanity. If not well handled, the nation may be heading towards disintegration.
If you enjoyed reading this article, share your comments with us at the bottom of the post.