The diverse types of nonprofits in Ghana embody the culture and lifestyles of Africa and the West. Also, some of the voluntary associations and traditional forms of NGOs predate the colonial period.
Nongovernmental organizations in Ghana have recorded steady growth (although covid-19 interruption resulted in a tight fiscal environment.) The middle-income country continues to pursue impact investing. This can be described as the investment of financial resources to enhance social and environmental conditions.
This article seeks to explain the types of nonprofits in Ghana and their regulatory frameworks.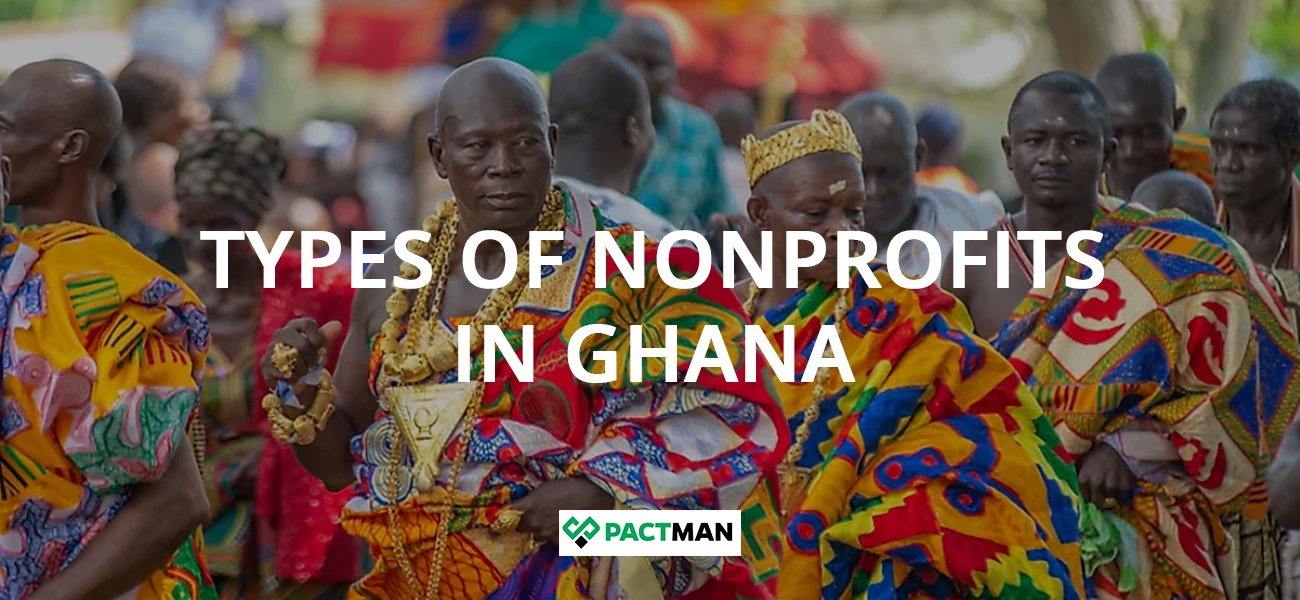 All types of nonprofits in Ghana are being registered as Companies Limited by Guarantee
Faith-based philanthropy represents the most active subsector in the country
A growing middle class in Ghana are creating opportunities for economic transformation
What are the types of nonprofits in Ghana?
The various types of nonprofits that exist under the country's law include:
Association

Company Limited by Guarantee

Cooperative

Foundation

Society and

Trust 
However, there is presently no legal and regulatory framework that particularly targets NGOs. Therefore, there are no clear definitions of the types and functions of each nonprofit entity.
All types of nonprofits in the country are currently being registered as Companies Limited by Guarantee under the Companies Code 1963 (Act 179). This is also the same for policy on tax regimes and subsidy for domestic philanthropy. 
The country nonetheless segments its Philanthropic sector into three major components. 
Horizontal Philanthropy: This segment operates using direct giver-to-recipient relationships. Horizontal philanthropy is carried out through indigenous channels. They comprise cooperative labour (Nnoboa), self-help groups, community security groups (Asafo), and rotating savings (Susu). This is also the primary method of giving in the country.
Vertical Philanthropy: This comprises individuals and organizations giving to aid the poor. Vertical philanthropy is carried out through intermediaries. This includes corporate foundations, private foundations and family trusts. Also, a large number of these sectors comprise local and foreign philanthropic foundations. 
Hybrid philanthropy: These entities are made up of social enterprises and impact investments. They comprise business support organizations, innovation hubs, workspaces, early-stage funding and support providers. Social enterprises operate at the regional and national levels. Also, a large number of them function as subsidiary organizations.
What is the Government's Response to Nonprofit Law?
Nonprofits in Ghana, until 2020, operated in a weak legal environment thereby impeding significant operations. Also, the country previously functioned without single-policy legislation or a legal framework. However, with the introduction of the newly passed NGO policy, the government established the Non-Profit Organization Secretariat.
This corporation will be responsible for handling the various matters of NGOs. The Non-Profit Organization Secretariat will also segment the roles and functions of Ghana's philanthropic sector.
The government have also begun the process of creating legal and policy frameworks to improve the nonprofit sectors. This is to enable the various types of nonprofits to function without limitation. 
In 2019, the country passed the Freedom of Information Law. This is to benefit nonprofits in the sphere of public policy and accountability. 
More flexibility has been granted to the nonprofit sector in Ghana. Despite the restriction law imposed in 2021 due to the covid-19 pandemic, nongovernmental organizations were allowed to disseminate research findings. The sector was also given leave to articulate its data on grassroots action and further comment on government policy and interventions.
This shows how the input of nonprofits and even lobbying can play a critical role in the passage of various bills.
Conclusion
NGOs are catalysts in establishing regulations and influencing laws that promote societal and cultural ideals. This is evidently reflected within the various types of nonprofits in Ghana. A growing middle class in the country are creating opportunities for economic transformation. This in turn is enabling the creation of pro-poor and gender-equitable policies. 
There is an increasing sense of responsibility and credibility in Ghana's nonprofit sector. Also, more awaits the nation as it makes room for more flexibility with the creation of laws and regulatory frameworks.
If you enjoyed reading this article, share your comments with us at the bottom of this post.